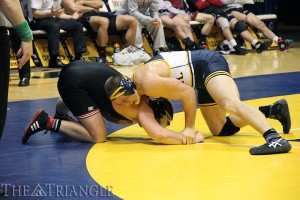 Three years ago, when Matt Azevedo took over Drexel University's wrestling program from Jack Childs — who was retiring after 35 years as head coach — the wrestlers entering their sophomore seasons were going to play an important role. They would have three seasons under Azevedo to grow into contenders at the conference and national levels but also to help Azevedo grow Drexel's wrestling program into one with a national scope.
Kevin Matyas, Brandon Palik and Austin Sommer have done just that.
The senior trio has bought into Azevedo's program both on and off of the mat. It's a comforting feeling for a first-time head coach at the collegiate level to have such a level of support from his athletes from the get-go.
"They have been really supportive of what we're trying to do, and I think they're excited about it," Azevedo said. "They see the program going in a forward direction. They see some good things happening. I think they're excited to be a part of it, which is exciting to us as coaches because, when your best wrestlers and your older guys are excited about what you're doing, it gets everyone excited as well."
On the mat, they are among the hardest workers on the team whether it be on match day or an offseason practice. They show the team full of younger wrestlers the way and how to become successful on their journey. Azevedo has been impressed with their leadership.
"Kevin has done a great job getting wins at some unexpected times to help us win dual meets," Azevedo said. "Obviously, Brandon is who he is, and he still has some goals that he wants to reach. I know that Austin fell short every year of making the NCAA tournament, and I know he wants to get there. He's been working really hard over the past calendar year, and I think it has hit him, like, 'Wow, I need to get my butt in gear.'"
Earlier in the season, Palik sent a message to the younger guys on the team. Palik came into his senior season with otherworldly expectations, and, for the most part, he has lived up to them.
"If I could leave them with one thing," Palik said, "it would be just to keep your head on straight and just stay focused on wrestling because that's what you're here to do. It goes by quick, and I tell them as a senior there are so many things I got to do or didn't do as a freshman, sophomore, junior that I'll never get back. I've learned from the mistakes, and I hope they do too."
Off the mat, Matyas, Palik and Sommer have helped create a culture conducive to winning and building the Drexel wrestling brand. When recruits come to campus, they are the first three wrestlers that Azevedo wants the potential future Dragons to see because they represent everything the young coach wants in his guys.
"The older guys are a huge part of recruiting," Azevedo said of his elder statesmen. "It's the kids who are the ones that sell the program. We're obviously selling the program on the phones, in the homes and while they're on the visit, but ultimately I think what seals the deal is when they come and meet the other student-athletes and see if they can fit in with the team and if they can make this their home for the next five years.
"Your recruiting is only as good as your kids, and I have 100 percent confidence that when we bring a recruit to campus our guys are going to be honest and get them pumped up about what we're doing."
As the end draws near, it's important to reflect on how much this graduating class has meant to Drexel wrestling. At the moment, however, the emphasis is on finishing the regular season strong heading into the conference tournament. They finish out the regular season with what looks to be a tough match on paper at Rutgers University Feb. 21 before they head home for Senior Night against the University of Pennsylvania Feb. 22.
"I think with the fact that we will have three seniors in the lineup, they're going to want to go out on a win," Azevedo said. "I think you often see kids on Senior Night perform a little above and beyond what they normally do because there's a lot of emotion there. Add in the fact that it's against Penn; we're really trying to build that rivalry up."
To take the rivalry to new heights, the Dragons and the Quakers will be wrestling for the first annual Cheesesteak Trophy. It's a bit ironic because many wrestlers wouldn't dare touch a cheesesteak while trying to maintain weight throughout the season, but it will stand as a tangible — and delicious — bragging right for the winning team.
This weekend will be an important one for Drexel wrestling. They put their three-match winning streak on the line against Rutgers and then head right into the season finale against Penn for Senior Night, the Battle of 33rd Street, and the Cheesesteak Trophy. For Matyas, Palik and Sommer, it will be a weekend that the three seniors can never get back, and their contributions to their head coach and the Drexel wrestling program should not be forgotten.