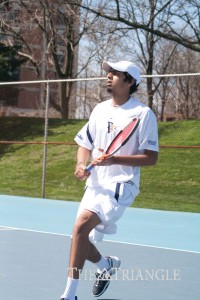 Now graduated, star player Manu Bajpai left his mark at Drexel as one of the best one-two punches when he teamed up with current senior Nikoloz Kurdadze.
The tennis season is officially underway as the Drexel men's team competed against local teams from Philadelphia and its surrounding areas in its first tournament. Playing in the St. Joseph's Invitational Sept. 23-25, the Dragons got off to a solid start for their 2011 fall season.
Drexel sent four Dragons to the semifinal round of the weekend tournament. Among the competitors were two freshmen. Darius Frick and Daniel Hansen gave a more-than-decent showing in the first event of their college careers. Frick, a Cincinnati native, knocked off the three opponents he faced while working through the bracket before falling short in the semifinal round 7-5, 6-1.
Hansen, who hails from Rhode Island, earned a first-round bye and knocked out a member from host St. Joseph's, Jason Sisti, with a 7-5, 6-4 victory. He too fell short in the semifinal round.
Senior Brian Nguyen and sophomore Paul Stauskas were able to join Frick and Hansen in the semifinal round.
Inclement weather limited the action at the tournament and caused for a short break between play. Only the singles matches were played, as rain forced the cancellation of the doubles draws for the bracket.
The Dragons will hope for better weather for their next event, and they will have some time to prepare for it. Their schedule remains open until the ITA Championships in Ithaca, N.Y. Oct. 13, giving plenty of time for them to prepare and for the rain to move through the Northeast.