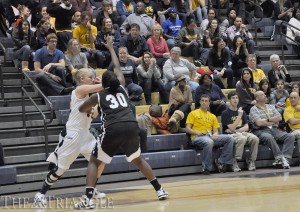 As good as the Drexel women's basketball team was last season, there were two players missing from the team that won the Women's National Invitation Tournament: forwards Jamila Thompson and Jackie Schluth.
Thompson, a redshirt junior from London, missed the 2012-13 season as a result of the NCAA rule requiring student-athletes to sit one year after transferring institutions. Schluth was given a medical redshirt season after injuring her knee. Both forwards would have contributed greatly to a defense that was already one of the best in the country.
Many Drexel fans should already be acquainted with Schluth, who has played sparingly in two previous seasons at Drexel. Schluth made eight appearances in her freshman year before an injury cost her the rest of her season. In her sophomore year, Schluth played in 15 games.
Head coach Denise Dillon is confident that Schluth has recovered fully from the knee injury that cost her a whole season. "Jackie is good to go full speed ahead. It's all about getting comfortable and finding her niche on the team," Dillon said.
While many Dragon fans have already seen Schluth in action, Thompson has yet to step on the court for the Dragons. Fans should expect Thompson to take over Taylor Wootton's spot in the frontcourt.
Dillon said about the loss of Wootton, "In Taylor, we lost probably the best post defender and big perimeter defender we've had at Drexel."
Thompson relayed those same points but knows that she is also a very good defender. "It's going to be tough replacing Taylor; she was great," she said. "But my goal is just to be a major factor defensively."
Before transferring to Drexel, Thompson spent her first two seasons at Dayton State University, where she led her team to back-to-back Mid-Florida Conference titles. During those two seasons, she earned the 2011 and 2012 Mid-Florida Conference Defensive Player of the Year award. Thompson also has international experience under her belt, as she has been a member of both the England U-16 and U-18 teams.
"With Jamila and all the experience she's had, including at the international level, it's all about getting her adjusted to our system and how we do things," Dillon said about integrating Thompson into the team.
While it may seem that Thompson has it all covered on the defensive side of the ball, Dillon disclosed that during her redshirt year she was working with former Dragons defensive stopper Nicki Jones on her shot-blocking skills. Along with getting back on the court, Thompson cites spending time with her teammates as a big motivation to start playing again.
"After last year and watching how good the team did, it was tough. I tried to provide positive energy for the team, but I'm just looking forward to playing with my team and spending time with my teammates," Thompson said of the upcoming 2013-14 season.
The return of Thompson and Schluth will help the Dragons greatly in the frontcourt and will also alleviate the losses of Jones and Wootton. While fans shouldn't expect the same standard of production, they should be prepared for the same defensive mentality that will be instilled in them through the coaching of Dillon. Their return to court will be a welcome sight for many Dragon fans once the season starts.