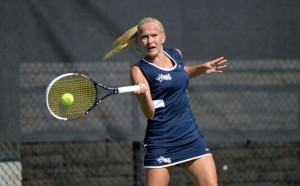 The title train never stops with Drexel University tennis.
After winning two titles at last week's Saint Joseph University's invitational, the lady Dragons doubled their total with two more in the latest invitational at Villanova University. In Flight A, Drexel sent out Erin Bowsher and Nicole Pivonka. Pivonka would end up making it to the finals of the flight, beating out Longwood University and Villanova before being defeated by Longwood for the Flight A title. Bowsher would start her campaign with a win against Villanova and a loss against Longwood. The flight would be salvaged with a back draw win against Villanova.
Freshman Ryshena Providence, fresh off her Saint Joseph's Invitational title, would play in Flight B along with Clary Rodriguez-Cruz and Lea Winkler. Providence looked to be zeroed in on her second consecutive singles title with wins over Saint Francis University and Villanova in the first two rounds but was denied the finals win by Villanova. Cruz meanwhile lost her opening match but recovered to win the consolation ladder by beating Saint Francis and Villanova. Winkler split her first two matches against Villanova before losing the back draw against Villanova.
In Flight C it was Kendra Bunch, Aysenil Orhon and Fiorella Coria playing for Drexel. Coria would be sent to the consolation ladder as she lost her first match against Villanova. She would go on to fall short of the consolation final victory with a loss to Saint Francis. Orhon was handed two straight losses by Saint Francis before winning her reprieve against Villanova. The freshman Bunch bullied her way to the title game after winning against Villanova and Longwood. She would give Drexel their second title after the final win against Saint Francis.
For the final Flight D, it would be Amanda Tilles, Jennifer White and Mel Reyes to represent Drexel. Some friendly fire took place in this flight as White would win the consolation ladder by beating her fellow Dragons. She would lose the opening round to Villanova and then defeat Reyes and Tilles for the consolation win. Reyes, after her loss to White, would go on to win the reprieve against Villanova.
In the Flight A doubles, it would feature the duo of Pivonka-Cruz and Bowsher-Winkler. Pivonka and Cruz would blaze through their matches, ultimately winning their finals game against Saint Francis for the doubles title. Bowsher and Winkler would win their first game against Villanova before losing to Saint Francis.
In Flight B, Drexel sent out the pairs of Tilles-White, Orhon-Coria, Providence-Bunch, and Reyes-Diaz. Tilles and White would lose their first two matches before winning the reprieve against the Reyes-Diaz duo. Orhon and Coria won their first round before losing to Providence and Bunch in the second round. Providence and Bunch won their first two rounds before falling in the final against Villanova.
With their single title count up to four and on short rest, the team faced Monmouth University Oct. 8. Asked how they will adjust to the short turnaround, Head Coach Mehdi Rhazali looks to take it easy with the group.
"We won't be working on technical stuff. We will be tweaking strategies and encouraging aggressive play. I will also make sure that we stay humble and focus on the moment. We might move our line-up a little bit and try to challenge the players in the back of our lineup to play in the top," he said.
The women's team heads to the Intercollegiate Tennis Association Northeast Regionals in Connecticut Oct. 16.