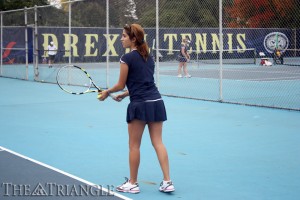 Drexel tennis will return to action for the first time in weeks this weekend, Oct. 14, with a set of separate tournaments.
For the men's team, a few members will be participating in the ITA Men's Northeast Regional this weekend, Oct. 13-18, at Cornell University. Among the qualifiers for the singles tournament are freshman Badr Ouabdelmoumen and senior Nikoloz Kurdadze. Ouabdelmourmen, and Kurdadze, will compete in the main draw representing the Dragons for the tournament, held in Ithaca, N.Y.
Oubdelmourmem will also compete in the doubles draw. He will be joined by sophomore Skyler Davis, making up Drexel's lone duo.
The qualifying round of the championship officially commenced the event Oct. 13. Only one member from Drexel's roster, Bryan Nguyen, particpated in a qualifier match. The senior fell in his only match to Rafael Rodrigues of Binghampton. The sets went 2-6, 6-1, and 6-3.
The next set of action in the tournament will take place in the main draws, which begin Oct. 14.
Joining the Men's team on the courts to make a return to action of their own will be the Drexel women's team. They will also get underway at 3 p.m. Oct. 14, but will be able to do so from inside the lines of their own home court.
Meeting them for their first traditional, non-tournament match of the season will be Monmouth University. The match is also traditional in that the two teams annually meet in mid-October, a tradition that has seen the Dragons tennis win often, including every year since 2006.
The Dragons had off last week and have not played since the Saint Joseph's Invitational the first weekend of October, Sept. 30-Oct. 2. They will look to return rested and ready to go, especially after their last event was cut short due to rain. Look for them to build off a strong showing from their last time out, as they and the men's will try to jointly make it a good weekend for the Drexel tennis program.