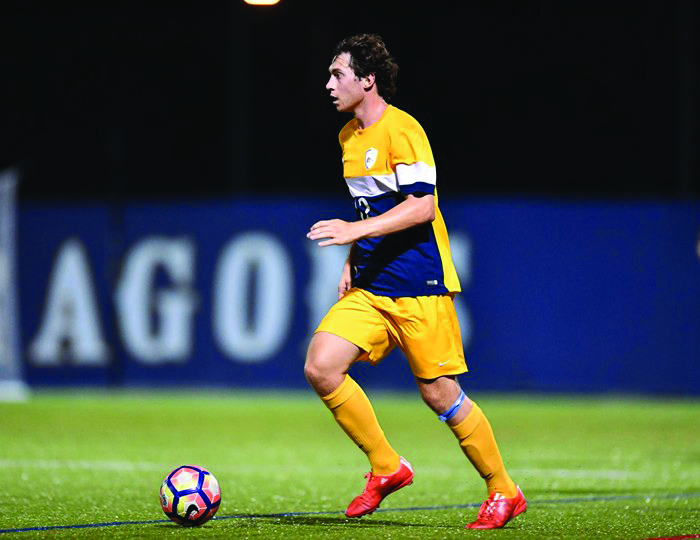 The Drexel University men's soccer team lost 2-0 against the Elon University Phoenix at Vidas Field on Oct. 15, Drexel Alumni Day.
With the loss, the Dragons losing streak increased to eight consecutive games, with the team's last and only victory of the season being a 3-2 overtime defeat of Temple University Sept. 13.
The Phoenix peppered the Dragons' net early and often, attempting five shots in the first 32 minutes of play. However, Elon was not able to convert on any of their shots in the first half.
Drexel showed signs of life late in the first half. After not attempting a shot for the first 39 minutes of play, they took four attempts in a matter of five minutes. However, the Dragons were also unable to capitalize on their shot opportunities as all four of their attempts were blocked by an Elon defender.
Elon took control of the game by scoring shortly after halftime concluded. In the 48th minute, Tuki Tayali ripped a shot at the Drexel goal, but it was wide left and ricocheted off the left post. Jaiden Fortune, Tayali's teammate, got control of the rebound and fired it past Dragons goalkeeper Tyler Afflerbach for the game's first goal.
In the ensuing few minutes of play, the Dragons countered with an attack of their own. Junior Colin McGlynn attempted a shot at the end of the 52nd minute, but his shot was blocked by a Phoenix defender.
A few seconds later, sophomore Ilai Shvika took a shot, but it was saved by Elon's goalkeeper Matthew Jegier. Shvika's shot would be the last the Dragons would get on the afternoon as Elon would control the game the rest of the way.
The Phoenix doubled their lead when Elijah Agu scored in the 73rd minute. Agu's goal was his ninth of the season, which moved him into the lead for goals scored by a player in the Colonial Athletic Association.
It appeared that the Phoenix had scored again in the 88th minute, but after a few minutes of discussion, the referees waved off the goal and ruled that an Elon player was offsides.
With the final score of the game being 2-0 in favor of Elon, Matthew Jegier picked up his sixth shutout of the season, putting him in second in the CAA.
Following the loss to Elon, the Dragons dropped to 1-10-2 on the season and 0-5-0 in the CAA.
Next up for Drexel is a CAA matchup with James Madison University at Vidas Field Oct. 22 at 4 p.m. The Dragons' final home game, which is their Senior Day, will be against the University of Maryland, Baltimore County Oct. 25 at 7 p.m.