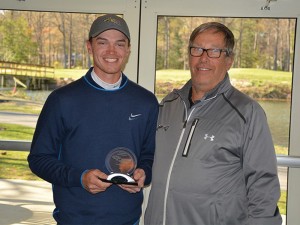 The Drexel University golf team placed second at the Towson Invitational April 3. The event was played in tough, windy conditions, with only one golfer shooting below par on Sunday. Senior Chris Crawford contributed heavily to the Dragons' second place finish by shooting 145, one-over-par, over the two days. His strong performance this past weekend was a follow-up to his second place finish from the previous week's outing on March 29 at the Anteater Invitational in Irvine, California.
Other members that helped to contribute to the second place finish were junior Yoseph Dance and freshman Michael Cook. Dance finished in a tie for eighth with a six-over 150 two-day total, while Cook tied for 27th. His eighth place last weekend finish earned Dance's his fourth top ten finish of the season.
The winners of the tournament were the Georgetown University Hoyas. The Hoyas finished with a 605, narrowly edging out the Dragons by four strokes, who finished with a 609. Rounding off the podium was St. John's University and Fairfield University who tied with a total of 614. The Dragons' next match is the Finegan Invitational, which is hosted by La Salle and will be played at the Philadelphia Country Club on April 18. The Finegan Invitational will be Drexel's last tournament before the CAA Championships begin on April 22.