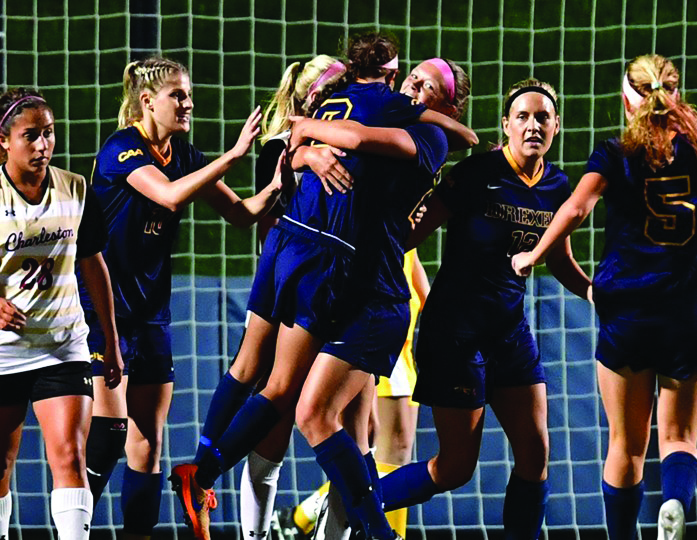 The Drexel University women's soccer team took on the College of Charleston Cougars and the University of North Carolina Wilmington Seahawks Oct. 7 at home at Vidas Field.
The Dragons outplayed the Cougars in a strong performance Oct. 7, shutting them out 3-0. Drexel goalkeeper Christiana Ogunsami now has eight shutouts on the season.
The Dragons got on the board in the fifth minute of the game. Sophomore Vanessa Kara scored off a rebounded shot by freshman Joanna Seca. She recovered the rebound and sank the ball into the bottom left corner of the net.
Drexel registered their second goal in the 27th minute of play. Freshman Laura Hamilton scored her first college career goal to give Drexel a two goal advantage. The Dragons would maintain the 2-0 score going into halftime.
Junior Kylie Strong scored the final goal of the contest to give the Dragons a clear victory. Strong scored off of a cross from sophomore Shaelyn McCarty.
The Dragons had a total of 13 shots, while the Cougars had 11. Ogunsami had four saves in the shutout.
The Dragons played their second match of the weekend at home against UNCW Oct 9, which was also Alumni Day. After two overtimes, the teams fought to a 1-1 tie.
At halftime, Drexel presented this year's Laura Meikle Koch Scholarship Foundation Coaches' Award. The LMK award was created to honor the memory of Laura Meikle Koch, a former member of the Drexel women's soccer program who lost her battle with cancer in 2008 at age 28. Junior Wilhelmina Hauch-Fausboll was presented with the award by members of Koch's family.
The game was scoreless for the first half of play. In the 63rd minute of regulation, Drexel got on the board with a goal registered by McCarty off an assist from Kara. It was McCarty's sixth goal this season, a team high.
The Drexel defense was able to hold off the Seahawks until the final seconds of regulation. The Seahawks scored off a corner kick with two seconds to play.
After two overtime periods and 110 total minutes of play, neither team could score for a victory.
After the tie, the Dragons moved to 8-5-2 overall and 4-1-1 against Colonial Athletic Association opponents.
The Dragons return to action this weekend on a road trip to Elon University and College of William and Mary to finish out their regular season.