The Drexel University men's and women's swimming and diving teams took to the water Jan. 9 in their first meet of the new year. Both the men's and women's teams swam against the University of Delaware, and the women's team also swam against Northeastern University. Each of the assembled teams was anxious for a good start to the year as an early win could shift positive momentum in the direction of both teams. Especially after a long break between meets, positive momentum can mean a lot.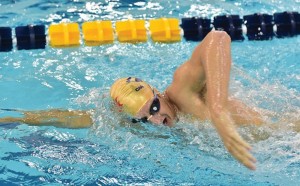 In the 1000 free, freshman Joseph Brown showed his best performance of the season, notching a time of 9:48.80—17 seconds better than his previous best time. Breaking personal records is always great, but a new record 17 seconds better than his previous best time is extremely impressive and should not be overlooked. Brown's run earned him second place.
In the 100 breast, freshman Ralph Cannarozzi III and senior Brian Woo finished first and second, respectively. Cannarozzi finished with a time of 59.25 seconds and Woo finished right behind him with a time of 59.46 seconds.
Senior Kyle Lukens had a great performance as well. He finished first in both the 100 fly, with a time of 50.98 seconds, and the 200 fly, with a time of 1:54.48. Fellow senior diver David Sanchez also had a great meet, winning the 1m and 3m boards. He compiled a score of 304.80 for the 1m and 347.25 for the 3m.
Drexel won the 500 free thanks to great performances from Dane Bell, Ivo Pejovic and Patrick Cobb. Bell won the event with a time of 4:40.40. Pejovic took third, earning a time of 4:42.54 and Cobb took fourth with a 4:42.64 time.
Joel Berryman, Luke Hanner, Pejovic and Sean Swartz swam the 400 free relays. Berryman secured a come-from-behind victory. Berryman also won the 50 freestyle and 100 freestyle with times of 21.23 seconds and 46.44 seconds, respectively.
David Sanchez and Joel Berryman earned themselves Colonial Athletic Association Swimmer and Diver of the week titles after their great performances against Delaware. They helped the Dragons notch a 166-134 victory.
The women's team was unfortunately unable win against either Delaware or Northeastern, but showed notable performances nonetheless.
Rachel Bernhardt finished second in the 100 breast with an impressive 1:04.41 time. Aubrey Murray completed the 100 free in 53.33 seconds, earning third place. In the 500 free, Emily Joyce finished at 5:08.06, earning a tough second place. Miranda Rouse finished the 200 individual medley in 2:10.21, scoring second place.
The women's team, consisting of Murray, Emily Lau, Claudia Duguay and Bernhardt, took second place in the 400 relay with a time of 3:36.01. While the women were unable to come away with a win in either of their matches, they brought very good performances.
The men's and women's teams will regroup against Howard University while the men's team will face off against the New Jersey Institute of Technology Jan. 16 in Drexel's Daskalakis Athletic Center.