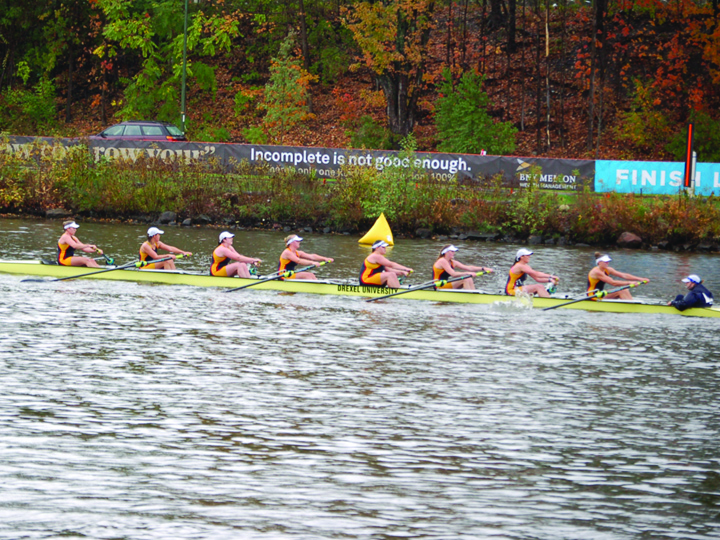 Drexel University Crew rarely disappoints when they hit the water. They're a group that's grabbed the overall championship at the Dad Vail Regatta for the last four consecutive years, a group that's taken home the Kerr Cup for the last six years.
To say that they're good at what they do is an understatement based on all of the accolades they have under their belts.
Drexel Crew's fall season this year has been no exception to their ongoing string of wins. The team took home five top-finishes at the Head of the Schuylkill Regatta Oct. 29. Both the men's and women's second varsity eight boats grabbed top-ten finishes at the prestigious Head of the Charles Regatta Oct. 23, too.
These victories name just a few of the successes that Crew has captured in their fall season. Most recently, Crew took home first-place titles on Nov. 6 while competing at the Rutgers Classic.
The Dragons sent nine boats to the Raritan River in New Brunswick, New Jersey, where the regatta was held — the men's freshmen eight A and B boats, the women's freshmen eight, and six men's varsity four groups (A, B, C, D, E, and F boats). The two boats taking home first place finishes were the men's varsity four B boat and the women's freshmen eight.
The men's varsity four B edged out a boat from the United States Naval Academy by a margin of seven seconds. Drexel's men's varsity four A boat wasn't too far behind them, taking a fourth place finish behind Navy and Rutgers University. The varsity four D came in sixth, followed by the C in ninth place, and the E and F each tied for 17th place.
In a monstrous fashion, the women's freshmen eight boat dominated their competition to grab their first place finish. The Dragons topped Rutgers by a whopping 48-second margin, coming in at 14:58 to Rutgers' 15:40.
While neither placed first, both of the men's varsity eight boats took home notable finishes in their race as well, taking fifth (A) and sixth place (B), with times of 12:57 and 12:59 respectively.
The end of the fall season is right around the corner for Drexel Crew. They'll take one last trip for the fall to Mercer Lake in West Windsor, New Jersey, to compete in the Frostbite Regatta this coming weekend on Nov. 12.