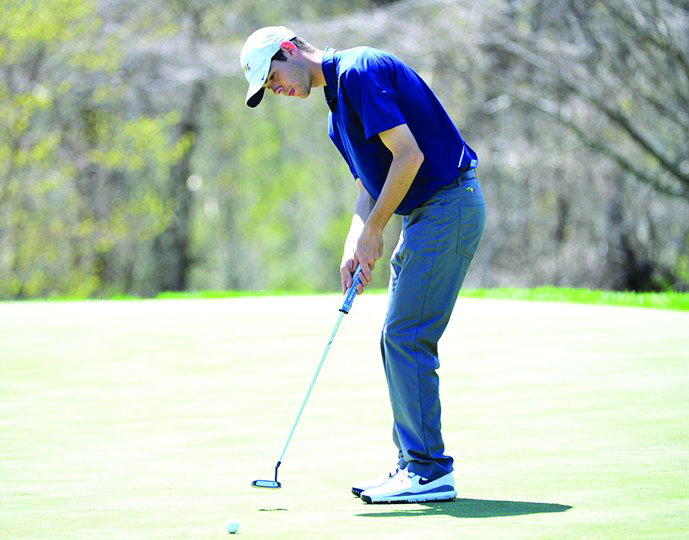 A few weeks ago, it seemed as though the Drexel University golf team had finally come into form. They seemed to have an ideal mix: a talented crop of freshmen complemented nicely by the leadership of their upperclassman teammates. Contributions were balanced — one week it was freshman Connor Schmidt's turn to shine, the other junior Aaron Fricke's, and so on and
so forth down the line.
The results followed. Two straight weeks of first-place finishes, capped off by the dramatic victory turned Internet sensation at the Explorer Match play event Oct. 11 thanks to the efforts
of Aaron Fricke.
Now, however, it is as if the golf gods have flipped the hypothetical switch, and the magic that the Dragons possessed not so long ago is nothing more than a distant memory. Last week's second-from-last-place performance at the Elon Phoenix Invitational Oct. 18 could have been a blip on the radar. But with this week's disappointing finish, it is the beginning of
a troubling trend.
Drexel traveled to par-71, 6500-yard Kilmarlic Golf Course Oct. 23 to compete in the Outer Banks Intercollegiate Classic. The 54-hole tournament, held over the duration of three days, required both skill and stamina, things which are not easy to come by in the twilight of a long college season. And when the Dragons stepped into the tee box on Oct. 24, that showed. Coach Ben Feld sent out a lineup that along with mainstays Schmidt, Fricke, and junior Adam Mistretta, featured sophomore Brendan Bacskai and, a new face,
freshman Alex Butler.
In the first 18, the lineup wasn't stellar, but it was enough to keep them in the hunt. Connor Schmidt posted an even par 71, while Adam Mistretta and Brendan Bacskai followed closely behind with a 74 and a 75 respectively. However, the wheels came off for the Dragons in round two. Their lowest score was another 75 from Bacskai, a solid performance but not nearly enough to absorb the pair of 10-over 81s shot by round one standouts Mistretta and Schmidt.
That said, Feld's squad certainly did not throw in the towel come Oct. 25's final round. A resilient effort by all members involved provides some hope for the future, highlighted by
newcomer Alex Butler's 33 on his final 9 holes. This effort from the Philadelphia local was punctuated by a final hole eagle, his first as a college athlete.
The Dragons will not miss North Carolina soil as they return to the comforts of home for their final challenge of the fall season. They hope to end the year with momentum for the future as they face off against local talents in the City 6 Invitational at Huntington Valley
Country Club, Nov. 5.