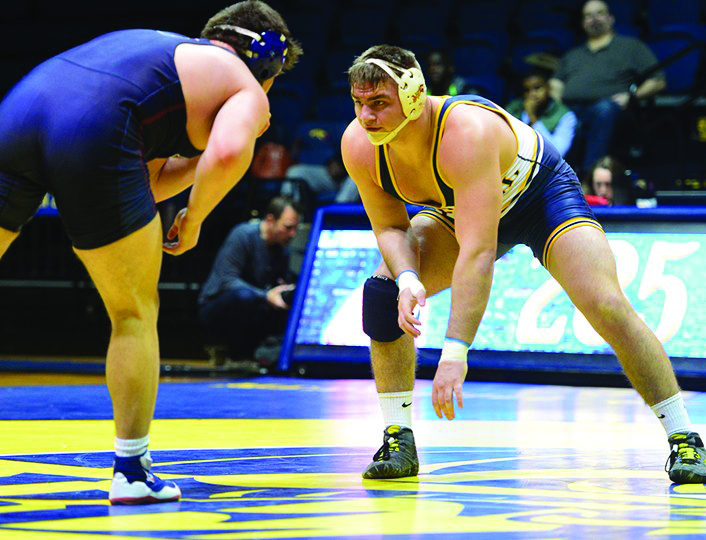 The Drexel University wrestling team took to the mats this past weekend in the Eastern Intercollegiate Wrestling Association Championships. The championships were held in Lewisburg, Pennsylvania. It was a good showing for Drexel as six wrestlers were honored at the podium with a seventh place award or better. The mat men had not wrestled since their weekend against the University of Pennsylvania almost three weeks before. The rest was certainly helpful, and they did not seem to give in to any potential rust.  
Tanner Shoap wrestled Penn's Jeremy Schwartz  in his first match of the day. Schoap defeated Schwartz on a 10-3 decision. Schoap lost his next match against Trey Chalifoux out of the United States Military Academy at West Point. Chalifoux defeated Schoap on a 7-4 decision. In the consolation rounds Shoap defeated his next two opponents but lost to No. 4 Noah Baughman from Cornell University, and then again to Chalifoux. It was a solid day for Shoap, and it earned him a sixth place finish.
In the 133-pound weight class, Kevin Devoy Jr. started off strong. He defeated Audey Ashkar out of Binghamton University on a 4-2 decision. Devoy then beat No. 6 Austin Harry from West Point on a 4-0 decision. Unfortunately, Devoy forfeited his next three matches due to injury. Even with the forfeited matches he was still able to take a sixth place finish.
David Pearce wrestled in some tough matches in the 141-pound weight class. Pearce's first match came against No. 2 Randy Cruz out of Lehigh University. Cruz defeated Pearce on a 6-0 decision. Pearce defeated his next opponent on a 9-4 decision, but lost his final match against No. 8 Jacob Macalolooy from Columbia University.  Macalolooy won on a tough 2-1 decision.
In the 149-pound weight division, Matthew Cimato dominated his first two opponents with a pin and a majority 11-1 decision. Cimato lost his next match against No. 2 Jordan Laster from Princeton University, but came back and defeated No. 8 Michael Sprague, from American University, in his very next match. Cimato lost his final match against No. 1 Laike Gardner of Lehigh University, but earned an overall placement of fourth.
Willie Davis wrestled in the 157-pound division. He wrestled well but lost his only two matches. For the 165-pound division, Austin Rose took a well-deserved seventh place finish. In his final match Rose defeated No. 2 Cole Walter from Lehigh University. It was a tightly fought match, but Rose was able to win with a 3-2 decision.
For the 174-pound division, Ebed Jarrell lost two of his matches, but did have a dominating win over No. 8 Sage Heller. Jarrell defeated Heller on an impressive 8-0 majority decision. In the 184-pound matches, Alex DeCiantis earned a sixth place finish. DeCiantis' key wins came on a 3-2 decision win against Kanon Dean from Harvard University, a 3-1 decision against No. 6 C.J. LaFragola from Brown University and a 2-1 decision against No. 8 Joe Heyob out of the University of Pennsylvania.
Joshua Murphy did not place in the 197-pound division, but he did have an impressive 15-7 win against Michael Bulkin of Columbia. In the 285-pound division, Joey Goodhart dominated the competition. He won three straight matches to take second place overall. His only loss came in his final match against No. 3 Garrett Ryan of Columbia.
Overall Drexel had an outstanding showing. Six wrestlers placed, which is an impressive feat. Joey Goodhart was the clear dominating force for the Dragons, but in the end, each wrestler wrestled tough and with grit. Between March 16 and March 18, the National Collegiate Athletic Association Division I tournament will be held in St. Louis, Missouri. Some of members of the team will have the opportunity to face off against the best in the country. It will be exciting to see Drexel represented in the tournament.