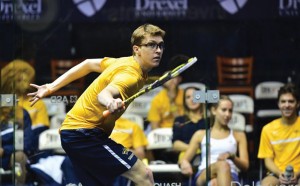 The Drexel University men's squash team showed an impressive performance Jan. 30, winning both of its matches.
The Dragons traveled to New Haven, Connecticut to play against the Cornell Big Red. Drexel defeated the 12th-ranked team 6-3.
Sophomore Atticus Kelly opened for the Dragons in the one spot, defeating Cornell's Harry Freeman in four games.
Freshman Bransten Ming lost the second spot in four games, but Drexel was able to turn the game around and earn three wins through six spots.
Freshman Omar El Atmas defeated Gustav Runersjo in four games for a total of 10 points.
Ibrahim Bakir followed in the fourth position, battling it out in five games to earn a victory over Cornell's Andy Muran.
In the fifth spot was Michael Thompson, who picked up his 10th win in a sweeping three game victory against Cornell's Jordan Brail.
Sophomore Luke Willemse picked up another win for the Dragons in the sixth position in four games.
Nat Fry and Noel Solomon dropped their matches in the number seven and number eight spots, respectively, while Joey Gingold defeated his opponent in five games to earn another victory for Drexel.
The Dragons continued their road trip to Middletown, Connecticut where they met with the Wesleyan University Cardinals. The Dragons swept the Cardinals 9-0.
Kelly won in five games against Guy Davidson in the first position.
Kelly was followed by Ming, who swept his opponent in three games.
The remaining seven matches passed in similar fashion.
The Drexel women's squash team took on Cornell and Wesleyan Jan. 30, and Stanford University and Mount Holyoke College Jan. 31.
The Dragons lost against the Big Red 7-2.
Hayley Hughes picked up her seventh win of the season in the first spot, defeating Cornell's Michele Carceau.
Ryan Morgan, Mary Fung-A-Fat, and Elisa Money dropped their matches in the two, three, and four positions.
In the number five spot, freshman Fiona Power earned a win over Charlotte Knaggs in four games.
Unfortunately, the Dragons lost the remaining four matches against Cornell, resulting in an overall loss.
The women bounced back from their loss against Cornell and defeated Wesleyan 8-1.
Hughes dropped her match in the first spot, but every Dragon that followed swept their opponents. Notably, these victorious players included freshman Kathryn Bottger, who played her first match with Drexel in the number nine spot.
The women split their matches on Jan. 31.  
First, Drexel fell to the Stanford University Cardinals 8-1.
Hughes earned the only victory for Drexel in a tough five game effort. She was able to come back to defeat Madeline Gill after trailing by two games.
The rest of the team fell in sweeps, but the Dragons bounced back to sweep Mount Holyoke without dropping a single match.

The men's and women's teams will return to action Feb. 6, when they welcome the George Washington University Colonials to the Kline & Specter Squash Center.