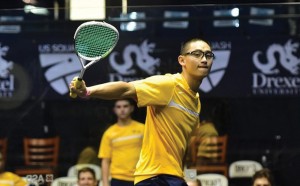 The Drexel University men's and women's squash teams are currently preparing for their matchups Nov. 20, 22 and 24. Both teams are currently undefeated and are seated 10th and 13th in the College Squash Association rankings respectively.
The Dragons will face off against the Haverford College Black Squirrels Nov. 20, the Bowdoin College Polar Bears Nov. 22 and the University of Pennsylvania Quakers Nov. 24.
The Dragons will welcome the Black Squirrels to the Kline & Specter Squash Center this Nov. 20 at 6:30 p.m. The Haverford men have a 3-2 record and are ranked 29th, while the women have a 0-3 record and are also ranked at 29.
The teams will then travel to Lancaster, Pennsylvania to take on the Bowdoin squash teams. The match is set for Nov. 22 at 10:30 a.m, and will be the first competition for the Polar Bears. The men's team enters ranked at 22nd and the women 18th.
Drexel will return to home to Philadelphia to play against the Quakers on Tuesday Nov. 24. The women play at 5 p.m. and the men play at 7 p.m. in the first regular season competition for the University of Pennsylvania teams. UPenn's men are currently ranked 7th and the women 3rd.
In Drexel's past two matches, freshman Omar El Atmas, freshman Bransten Ming and sophomore Luke Willemse have started in the first three spots for the Dragons. All three had winning performances in these competitions. For the Drexel women, sophomore Hayley Hughes, sophomore Ryan Morgan, and junior Mary Fung-A-Fat opened for the Dragons. Hughes and Morgan are both 2-0 individually, while Fung-A-Fat is 1-1.
The teams hope to continue their winning streaks and stay undefeated through the upcoming matchups.