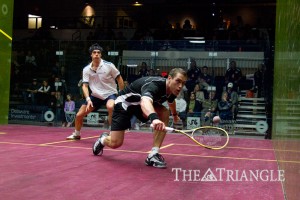 Two of the world's Top-25 men's squash players compete at the DAC during the 2011 Delaware Investments U.S. Squash Open, which took place from Sept. 30-Oct. 6.
After taking a 1-1 split in their series with Haverford College last week, Oct. 26-27, the Drexel men's and women's squash teams leave the state of Pennsylvania and take part in the 16-team Navy Squash Round Robin Invitational Nov. 5-6 and Nov. 12-13.
The men's side (1-0) will take part in six matches in the tournament, taking on Denison, George Washington, Johns Hopkins, Fordham, Hobart and tournament host Navy. The matchup against Navy Nov. 5 is especially difficult considering that the Midshipmen are ranked No. 15 nationally in the College Squash Association Preseason Poll. Under the tutelage of head coach Craig Dawson, the midshipmen have won 20 games in four of the 12 seasons in which he has been at the helm.
While other teams present a threat to the Dragons, it will be the Midshipmen that will truly represent the first real challenge for the men's squad.
"It's only going to get harder," Drexel head coach John White said after last week's win over Haverford. And given the circumstances, it fits at a time like this.
The women's squash team (0-1) will also take part in the Navy Squash Invitational, although they will be playing only four matches over the course of the two weekends. They will play against Johns Hopkins and Virginia Nov. 5 and then return to Annapolis a week later to play George Washington and Georgetown.
For the women, their toughest test will come against14th-ranked George Washington. The hope is that Drexel will repeat the strong performance that they had against Haverford, against what will certainly be tougher competition.
The men's team commences play in the invitational Nov. 5 in a tripleheader against No. 15 Navy, Johns Hopkins and Fordham. They continue with a doubleheader against George Washington and Denison Nov. 12 and wrap up play the next day in a battle against Hobart.
For the women, they start out invitation play Nov. 5 as well, playing a doubleheader against Johns Hopkins and Virginia. They end play a week later Nov. 12 against George Washington and Georgetown.