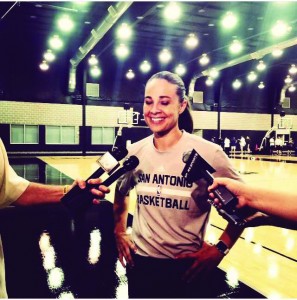 This past week, the San Antonio Spurs made an announcement that will change the world of men's sports forever.
The team's assistant coach, Becky Hammon, a former WNBA standout, will be the head coach for the Spurs during this year's NBA Summer League Season. The Spurs made the announcement July 3.
The promotion is a huge one not only for Hammon, but for female basketball players and coaches worldwide. Hammon will be the first female head coach for the NBA summer league ever.
The summer league takes place in Las Vegas each year, and the season began July 6. In their next summer outing July 11, Hammon and the Spurs will face the New York Knicks.
Before her recent promotion, Hammon had already made headway in bringing female involvement to the men's sports world. This past year, she became the first full-time female assistant coach during the Spurs' regular season. Her contributions helped the team achieve a 55-27 record in that time.
Even before her coaching career took flight, Hammon was an impressive athlete who served as a role model for many, especially women involved in sports.
The 38-year-old's career is full of awards and accolades. Before WNBA, she played college ball at Colorado State University, where she was named an All-American in addition to having set a series of school records. In her college career, she scored more than 2,700 points.
After graduating, Hammon played 16 seasons for the WNBA, playing first for the New York Liberty from 1999 to 2006 and then for the San Antonio Silver Stars from 2007 to 2014 when she retired. Her professional career was also decorated with awards, most notably six WNBA All-star awards, two All-WNBA First Team selections, and two All-WNBA Second Team Selections. In 2007, she led the WNBA in total assists.
During the entirety of her WNBA career, Hammon played more than 10,000 minutes and scored more than 5,000 career points.
She also competed in Olympic level basketball twice. Because she wasn't chosen for the U.S. team, she competed with the Russian team, where she has dual citizenship. In 2008, she helped Russia to a bronze medal. She also competed in the 2012 Olympic games, again playing for the Russian team.
Hiring Hammon as the head coach of the summer league squad has many fans wondering if sometime in the future, a woman could be hired as the regular season head coach of an NBA team.
Not everyone is happy that Hammon, a woman, will be serving as the head coach for a male team — a fact that will probably make critics a little tougher on the Spurs team that will be competing this summer season.
But much like she said last August when hired as the Spurs' assistant, Hammon is certainly up for the challenge — and nothing worth it comes easily.
"Nothing in my life has really ever been easy. I've always been someone who did it uphill," she told reporters last season. "I'm up for challenges. I'm up for being outside the box, making tough decisions and challenges."