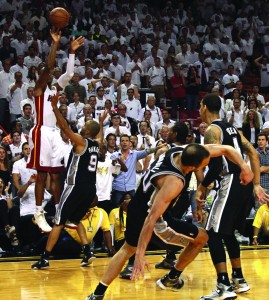 With 5.2 seconds left on the clock in the sixth game of the 2013 NBA Finals, living rooms throughout America hung on Mike Breen's iconic call: "BANG." The ESPN commentator is famous for his three-point call, one word indicating a successful shot.
Down by three, in an elimination game on the biggest stage in basketball, backpedaling toward the three-point line with only time for a cursory glance to make sure he was positioned correctly, the Miami Heat's Ray Allen received a tip pass from Chris Bosh.
Like he had millions of times before, Allen left the ground to take his shot. Three-pointers are "his shot" more so than any other player in history. The world held its collective breath.
With San Antonio Spurs point guard Tony Parker breathing down his neck, Allen rose up and Miami fans went silent, watching the trajectory of the ball, praying that the basketball gods would be merciful to them one last time.
Allen's shot splashed without so much as grazing the rim. As if there were ever any doubt.
In one of the greatest games in NBA history, the Heat toppled the Spurs in overtime and followed that victory with a Game 7 masterpiece to put the Spurs away and win their second straight title.
That shot helps set up the stakes for this year's edition of the NBA Finals. Past the fact that one team will emerge as a championship team, viewed in the eyes of history as the best team on Earth for at least a single year, there's a sense of history here.
Last year, the Heat effectively stole a championship from the Spurs, and they'll never forget that.
Last year, LeBron James and the Heat cemented their place in history as a truly elite team, and LeBron muscled his way into discussions about the greatest basketball player of all time.
This year, the Spurs are better. Kawhi Leonard is more experienced. Manu Ginobili is no longer injured and isn't leaking turnovers on offense. Tim Duncan, a slight offensive regression aside, looks as good as ever.
The opposite can be said for the Heat.
The team is older. The supporting cast is weaker than ever before— Shane Battier, usually a rock for the team, looks more like he should be commentating on the sidelines rather than playing on the floor. Mike Miller hit numerous big shots for the team during last year's Finals, including one while missing his left shoe, but he now plays for the Memphis Grizzlies.
That being said, the Heat have LeBron. It should be a law that you cannot bet against LeBron James in any sports competition, particularly not in basketball. Every year, LeBron gets better. He's unstoppable offensively and is a complete wall on defense. No player on Earth can contain him.
In the 2013 Finals, the Spurs employed a tactic that managed to "contain"LeBron for five games of the series. They decided that rather than pressuring him when he got the ball, they would play off him, giving him open jump shots. LeBron has always been more comfortable penetrating the lane and creating from there than taking face-up jumpers, so he was reluctant to take advantage of the openings this defensive strategy allotted him.
Game 6 changed everything.
He was hitting his shots, which also allowed him to drive through the lane and create for teammates, and he became unstoppable in Game 7, finishing with 37 points and 12 rebounds.
This year LeBron has taken his jump shot to new levels, often opting to pull up from 16 feet, even when a defender lies within arm's reach. His combination of height and deadly accuracy make defending him virtually impossible.
So now Spurs head coach Gregg Popovich and his elderly outfit are forced back to the drawing board to try to contain LeBron. They'll figure something out, but it's unlikely that one of the greatest players of all time, in his prime, can be contained for more than a single game of a seven-game series.
What's at stake in the series?
A win for the Spurs would be the fifth championship of the Tim Duncan and Gregg Popovich tandem, their first coming 15 years ago, which is an incredible feat in the modern sports era filled with nearly constant cast turnover.
If Miami pulls it off, it would be the third championship of LeBron James and the Heat in as many years, and with that a place in the all-time upper echelon of NBA teams. In LeBron's case, a win would position him right next to Michael Jordan with a legitimate case for being called the greatest basketball player of all time.
It should be noted this article was written prior to Game 1, so you will have to trust that these are genuine predictions.
I think the Spurs will win the first game. They're at home and they simply have too much emotion driving them following last year's series. Unless LeBron puts on a show — as he is wont to do in important playoff games— I think the Spurs win 97-89.
The series, however, is a different story. As I said above, it should be punishable by law to bet against LeBron James, and I refuse to do so. I think the Heat win in seven games, with LeBron capturing his third championship and third NBA Finals MVP Award.