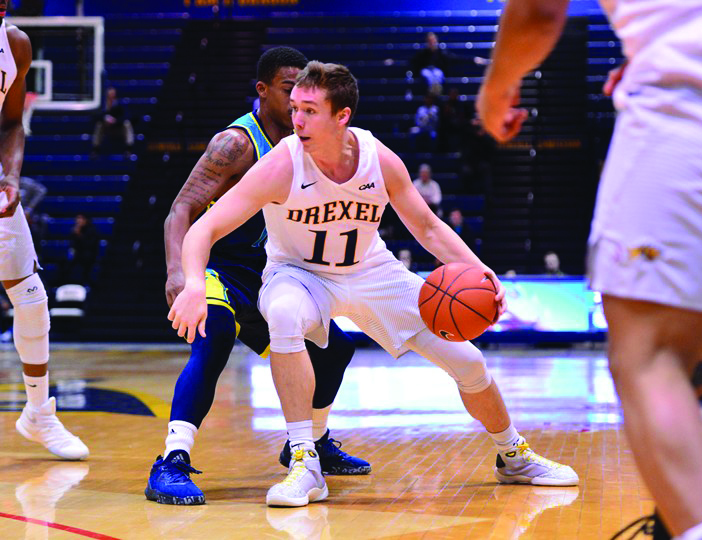 The first drawn charge of the Zach Spiker era would have made Bruiser Flint's head explode.
Spiker, the new head coach of Drexel University men's basketball team, is a team-first man. He says often that he wants good basketball players, but great men. Perhaps it was born out of his time spent at Army.
As that team man, Spiker likes to applaud the little things during games, and he wants his players on the bench to do the same. He loves players who take charges. In the Dragons' early November scrimmage against Kaiser University, Miles Overton took a charge early in the first half, skidding to the floor in the team's new yellow jerseys.
In one motion, each player on the Drexel bench leapt from their folding chairs and rushed to the hardwood, clapping their hands and hollering their approval. They all lifted Overton from the floor. Spiker looked on, bemused. The Dragons received a technical foul for the stunt, but it was worth it.
The explosion signaled the arrival of a new men's basketball regime on campus, one with more points, in theory more wins and in
practice more fun.
Drexel hired Spiker in mid-March of last year. He quickly installed a new mentality within the program: think big, play fast. It was the first approach he presented as the team's head coach, and it stuck. His teams play a much faster brand of basketball than those of Flint.
Last season, for example, Flint's team averaged 64.6 points per game during their non-conference schedule. They won just two of 11 games during that stretch, en route to the worst season of Flint's career. They didn't have the talent to compete with many teams in the country, but his uninspired offense, outmoded in today's game, didn't help. This season, Spiker's team averaged 76.9 points per game out of conference, and won six of 13 games.
In a coach's first season, wins and losses matter less than morale and attitude. With a roster like this team's, which boasts five freshman, including two in the starting lineup, that goes double for Spiker's
inaugural go-around.
"I don't think we need to be defined by wins and losses," Spiker said after Drexel's first win of the season, an 87-73 home win over Hartford. "I think we need to be defined by progress. And tonight we made progress. When we lost at home to Kaiser, we made progress. Those first two games on the road, they were tough games, but there were positives."
Spiker has taken a big-picture approach to this season, and to his program-building as a whole. He knows Drexel ranks sixth out of six in desirability and lore among Philadelphia's men's basketball programs. Recruiting in Philadelphia proper was never a strong suit for Bruiser Flint; instead, he relied on pipelines from Virginia, Washington, D.C. and New Jersey for his guys. Spiker has been vocal about his desire to start drawing from the city's plentiful resources. He's hoping the program's newfound fire and flair will help his cause.
"I think, from a recruiting standpoint, from a Philadelphia standpoint, if you're young and you see how we play, I hope it's attractive to you with the pace," Spiker said. "We can play quicker than we did today,
and we should.
"Not that we're going to any time soon," he quickly added. "I think, in time — and when I say time, we're talking probably years, not months — but in time, I think we
can play quicker."
Spiker's Dragons have opened Colonial Athletic Association play with three straight losses to three of the best teams in the conference. The third, a rip-roaring track race of a game against the University of North Carolina-Wilmington, was something of an education for Spiker, for this year
and for the future.
The Seahawks hired their current head coach, Kevin
Keatts, three years ago, and he quickly did for UNCW what Spiker hopes to do for Drexel. He gutted a wheezing program, installed an up-tempo offense to match the modern game, and recruited aggressively. In just two years, Keatts had the Seahawks in the
NCAA tournament.
"When you look at the teams that win the CAA, they look a lot like that," Spiker said after the loss. "They create with the ball. They move it. They take tough shots. They take open shots. And they have
shot-making ability.
"They've got three or four guys, on the floor, for 40 minutes. Forty minutes. They've got three or four guys who can just score it. That's what a championship team looks like. Are you asking me if I want to play like a team that's going to win the league? You'd better believe it."
Spiker's rebuild won't be as fast as Keatts's, and there's no telling whether it will be as successful. But he's following a proven blueprint. And so far, things look like they're
right on track.