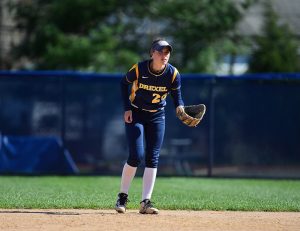 Entering their April 16 matchup with Towson University, it was fair to say that something was a little off for the Drexel university softball team. They seemed to be just on the precipice of making a strong run through the start of CAA play, but had been unable to put together a complete performance of stellar pitching supported by a productive offensive day at the plate. Unfortunately for the team, the unseasonable snow that wafted down may have been an ominous sign of things to come, perhaps an indication of the temperature of the offensive attack for the Dragons in their next four games.
After Saturday's game was snowed out, Drexel and Towson were forced to play a doubleheader the next day, and things began poorly. A four run first frame for the Tigers quickly set Drexel back, and despite a leadoff home run by junior Baeley Reed and a 4-4 performance by senior Paula Ueno, reigning CAA player of the week, the squad was unable to string together those hits into run-producing innings.
Drexel's streakiness was what separated the two sides in this matchup: both Drexel and Towson actually had the same amount of hits (8), but the Tigers were able to convert these into 8 runs compared to the 2 for the home side.
In the second leg of the double header, it appeared as if things would be different. After a scoreless first inning and a half, Drexel unleashed an onslaught of singles. Hits by junior Erin Okoniewski, junior Kimberly Chan, and junior Taylor Lee loaded the bases, and three more by junior Sharon Zamora, freshman Jenelle Ladrido, and Paula Ueno resulted in a four run inning.
Any potential relief that they might have felt after finally posting a crooked number in an inning was quickly dashed however, as Towson's sophomore Shelby Stratcher responded immediately by belting a 3 run homer to left. The Dragons were able to settle down behind senior Tara Konopka, who continued to baffle hitters until the 6th, when things began to click for Towson to the tune of a 7 run frame, almost certainly demoralizing an invigorated Drexel side en route to their 12-2 victory.
The Dragons only had a few days to gather themselves before their Wednesday, April 13 matchup with rival University of Pennsylvania, who came into the contest with a four-game losing streak of their own. However, the Quakers were able to jump out quickly to a 2-0 lead, a lead that they protected until fifth inning.
Drexel's bats came to life suddenly in the top of the frame, when Paula Ueno and freshman Kai Uyesaka's RBI singles highlighted a 2 run, 2 out rally. However, as so often has been the case, their defense was not able to stifle their opponent's response: Penn scored 2 more in their very next plate appearance, and didn't look back for a 4-2 win.
A trio of games against CAA opponent James Madison University over the weekend capped off a crowded week of games for the team. The 8th ranked team in the nation, the Dukes lived up to their impressive 32-3 (9-0) records to say the least. When junior Savanna Johnson crossed the plate that afternoon to end Drexel's fifth inning push against Penn, she also represented the end of the team's scoring for the week: they fell 3-0, 8-0, 8-0 in the matchups. The three game series also included a bit of history for JMU's sophomore Megan Good, who tossed a perfect game in her team's dominating 5 inning win the afternoon of April 17.
So what's next for the Dragons? Having lost 7 straight and still seeking their first league win, this week's games are crucial to trying to salvage some positivity from the season. They will have their opportunities to climb back to .500, beginning with games vs. LaSalle University, Seton Hall University and Hofstra University this week.