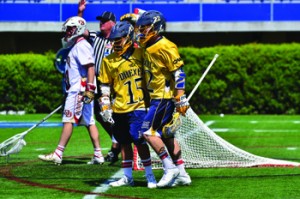 It hasn't been an easy year for head coach Brian Voelker and the Drexel University men's lacrosse team. The Dragons have scored double-digit goals just four times in 11 games and they've been held under five goals twice. They are under .500 and they've fallen all the way to No. 35 in Laxpower's Computer Rating.
The good news? They might be getting it together, to a certain extent.
The Dragons started the year by reeling off four straight losses, culminating in an embarrassment at the University of Maryland, where they only scored three goals. Since then, the team has won five of seven contests, and despite a letdown in a four-goal performance against Fairfield University, the team has played close to its lofty standards.
After a dramatic 8-7 victory over Hofstra University April 4, the Dragons are just one game under .500 with three Colonial Athletic Association games to go.
Voelker admitted that his team had a tough go in the first few weeks of the season, but said his squad has fought through the struggles.
"The start of the season was definitely rough, but we kept plugging away," Voelker said. "We've done some good things since then that we need to improve on. We just really have played well on the defensive end and need to evolve a little bit on the offensive end to match it.
"Overall, the captains and seniors have done a great job of keeping everything in perspective and plugging away at it."
Following their loss to Fairfield, the Dragons headed to Hempstead, New York, to face off against Hofstra in their second CAA game of the year.
The game was defensively focused through the first quarter, with only one goal scored for either team. The Dragons notched that goal when Michael Kay found the back of the net for the 1-0 lead.
Then the floodgates opened in the second quarter. Both teams scored three goals, respectively, including two by senior Ryan Belka, taking the game into halftime with a 4-3 Drexel advantage.
The third period was a quiet one, as neither team managed to get on the board, and the Dragons' one-goal advantage held steady.
Early in the final quarter, Mason Pynn and Jules Raucci both scored unassisted goals of their own to put the Dragons up by three. A Brian von Bargen goal for Hofstra cut the lead to two, but Pynn once again came up big for the Dragons, ripping another marker to put his team back up by three.
The lead wasn't quite safe, however, as Hofstra notched a pair of goals in a 29-second stretch to tie it up. After Hofstra's Mike Malave scored a tying goal with 36 seconds to play, it appeared the game was going to have to go into extra time.
Ryan Belka would have something to say about that.
The Dragons won the ensuing faceoff and moved the ball around until it was in Hank Brown's possession. He made his move and found Belka open for the game-winning shot with 14 seconds remaining. Belka's goal, his third of the game and 23rd of the season, gave the Dragons an 8-7 victory and the first conference victory for the team.
This was a huge victory for the Dragons, as every conference game is pivotal, and improving from game to game is equally as important. The team has improved dramatically on defense this season, but they've regressed majorly from last year's dominant offensive attack.
Voelker attributed the issue to a lack of offensive diversity.
"We keep trying to figure it out," Voelker said. "We did some things on Saturday [against Hofstra] to give some new guys an opportunity. We changed up some sets and personnel, and we felt like we got some better opportunities.
"Against Fairfield we just didn't play very sharply and couldn't be controlled on the offensive end. We just focused on being more sharp and careful with the ball and that helped. We really need some guys to step up that aren't named Ryan Belka or Cole Shafer, and that starts in practice.
"We're working on things in practice, trying to evolve a little bit, but it's tough because at this time of the year it's more difficult to experiment."