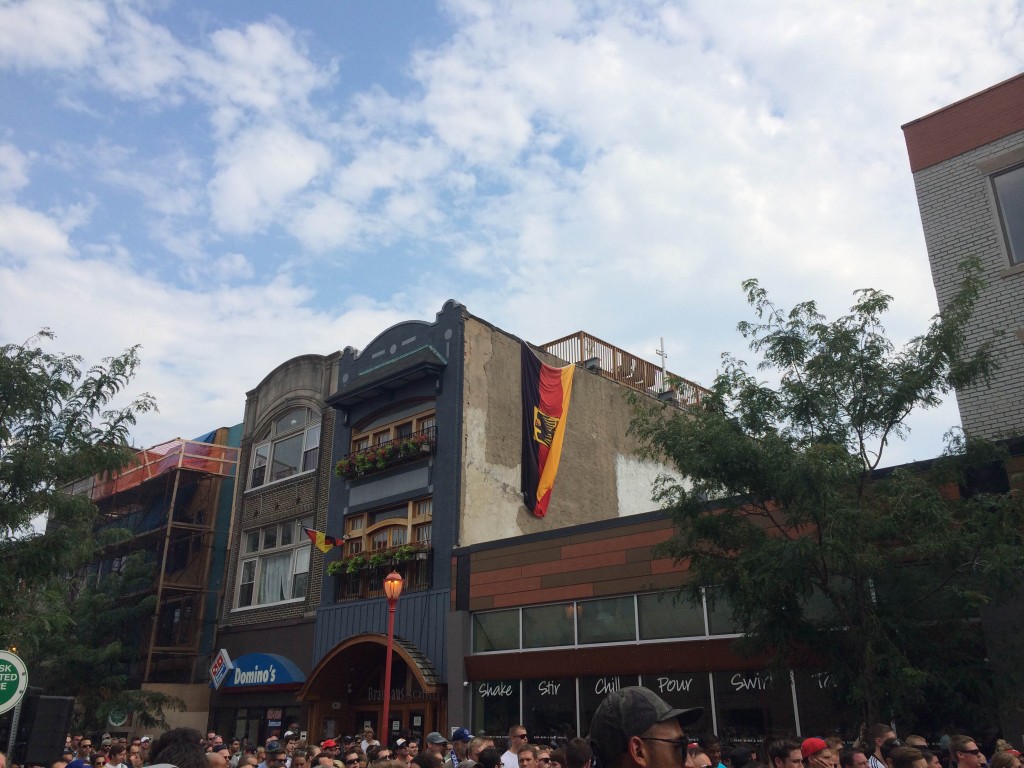 The sidewalks of South Street are buzzing. Off-gold cans of Warsteiner beer exchange hands and an adventurous few walk around with their beer in plastic boots.
In a little over an hour, Germany and Argentina will face off for soccer supremacy in the World Cup final. Lionel Messi will try to fulfill what feels like a life-long prophecy, while the German machine will try to take its final step toward asserting its dominance in the soccer world.
On the 700 block of South Street, people are beginning to gather around a 20-foot screen in the street. There are food truck vendors near the back, and beer is sold every 10 feet.
A man in traditional German overalls yells, leading a chant of just 20 people. It's early. Soon these streets will be filled with the sounds of soccer.
* * *
A contingent of the most intense German fans are situated near the screen, in the front of the congregation. They dance and wave flags as German pop songs blast from the speakers. They enjoy their beer, too, but they're here for the soccer. They're here for their country.
A woman named Monika is dancing with her children and her husband in the middle of the relatively sparsely populated crowd. She is wearing a black top and red skirt, her husband a yellow shirt and her children red tank tops. They're a walking, talking German flag.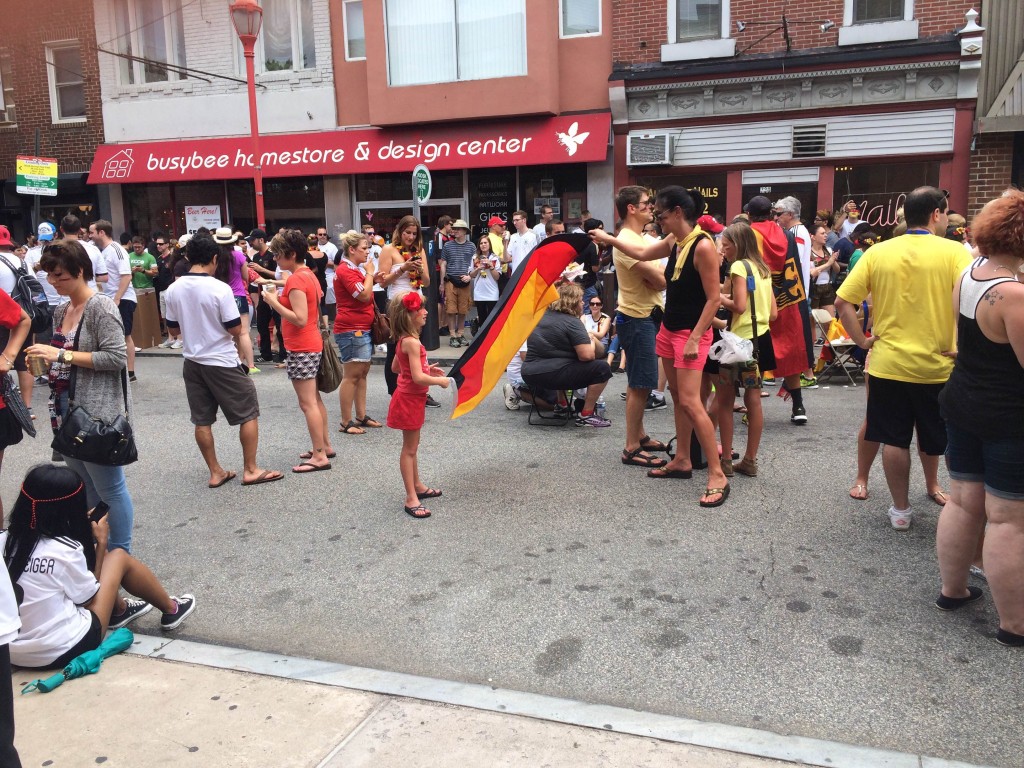 Monika twirls an actual German flag with one of her daughters, doing a jig to a song I assume she knows. But she doesn't; she moved to America when she was 23 years old with her husband, who is originally from Ohio. "I was his souvenir," she says with a laugh. She says she's 46 years old now and stops for a second as she realizes she left Germany almost exactly half her lifetime ago. Her favorite player on the German team is Manuel Neuer because she grew up just outside of his hometown of Gelsenkirchen, Germany, but she says she was actually rooting for the United States more in this World Cup.
"Keep writing about this, about soccer," she says to me. "I want the [U.S.] to get here one day."
* * *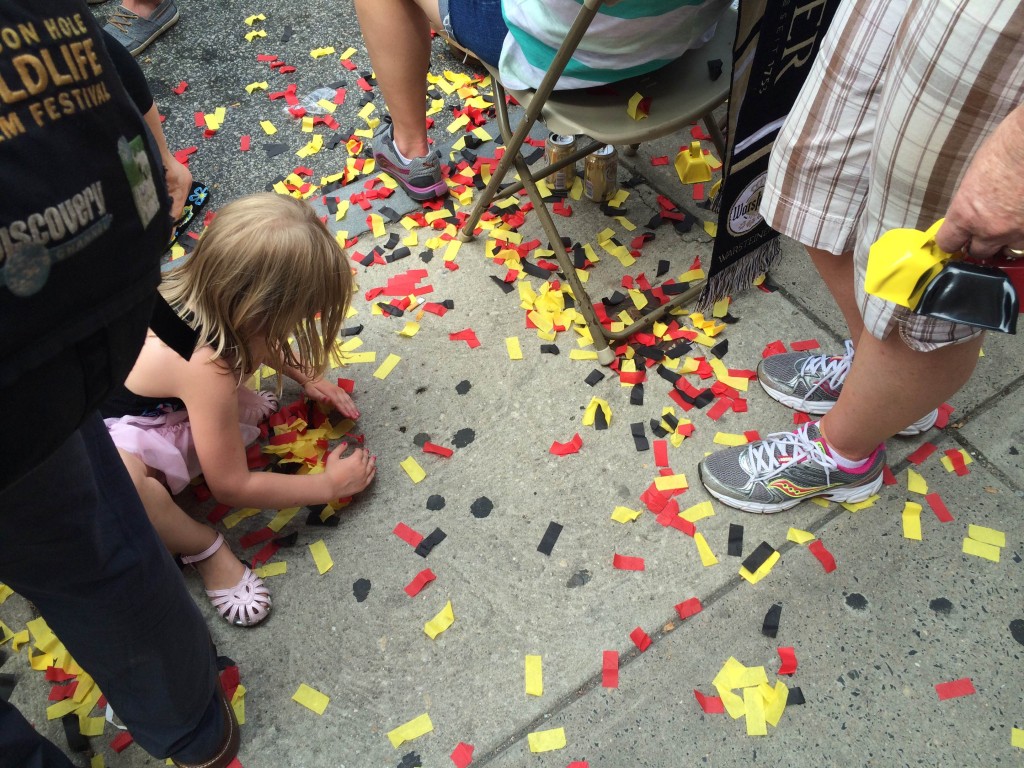 Near Monika, a three-year-old girl with a German flag painted on her face plays with confetti. She throws the black, yellow and red pieces of tissue paper in the air and watches them rain down on her face with a smile. Her mother watches her nearby. In a decade, her memory of this day will be foggy, but you can bet she'll remember that confetti.
* * *
As I walk amid the crowd in the first minutes of the game, the near-uniformity of German fans is staggering. Brauhaus Schmitz, the German restaurant hosting the event, billed it as a German viewing party, so this shouldn't be surprising. But it's jarring when a few Argentinian fans wander into my line of sight.
As Lionel Messi barely misses an opportunity to finish off a run in the 10th minute, I notice a young man in a blue oxford cover his mouth. I ask him if he's rooting for Argentina, and he says yes, so I ask him why he decided to come to a Germany-centric viewing party. He points to a man to his right in a faded white Lukas Podolski jersey.
Toffi Jacobi and Kevin Ramirez are interning at the University of Pennsylvania this summer. Kevin is from Buenos Aires, Guatemala – no, not Buenos Aires, Argentina – while Toffi is from Frankfurt, Germany. They met during the internship and became friends, bonding over the World Cup, not thinking their two preferred teams would end up meeting in the final game of the tournament.
The rest of Toffi's family is still back home in Frankfurt, watching the game together, and he says he wishes he could be there, but he put the opportunity at Penn first. He says the first thing he did when he arrived in the States, however, was do a Google search for the best German restaurant in Philadelphia. He wanted to find a good place to watch his country with other former Deutschland residents.
As he's explaining all of this, Argentina's Gonzalo Higuain fires a point blank opportunity just wide of Neuer. Kevin jumps into the air and lets out a scream of agony. Toffi laughs and puts a hand on his anxious friend's shoulder.
I ask Toffi what he thinks of the scene on South Street. The beer, the scarves, the flags. Is this what a game looks like back in Frankfurt?
"Absolutely," he says. "Especially the beer. Beer and soccer at home is just like beer and [American] football here, you know?"
He bends down and pulls another bottle of Hofbrau Munchen from a six-pack he and Kevin brought with them. He asks for the bottle opener, which another of his friends has lost. No matter, he says — hand me that water bottle. He takes the cap of the bottle, puts the beer cap on the water bottle cap and uses a little leverage to open his brew.
"I learned how to open a beer bottle with a lighter when I was eight years old," he explains with a laugh. "I learned how to tap a keg when I was seven."
* * *
"I was telling people for two years, 'For my 40th birthday, I'm going to the World Cup.'"
Damon, a former Bensalem, Pa., resident, returned from Brazil just weeks ago, where he watched the World Cup in person. He caught the United States' last two games of the group stage, against Portugal and Germany. He says he's been to countless Eagles games against the Cowboys and Giants, even going to the late Veterans Stadium for an Eagles-Cowboys game.
Nothing, he says, compared to the atmosphere of the World Cup games.
"It was the most amazing experience of my life," he says. "During the national anthem, I've never felt like that before."
He says he only recently became interested in soccer, picking it up after the 2010 World Cup and becoming a casual observer over the past two years. He can't believe the way the United States has taken to the sport, and he thinks a lot of it can be attributed to the way the national team has stepped up on the international stage in the past two World Cups.
"The best part of this year's Cup is that even though the U.S. is still out, we still care," he muses. "Look at this crowd. Two years ago I never would have guessed this."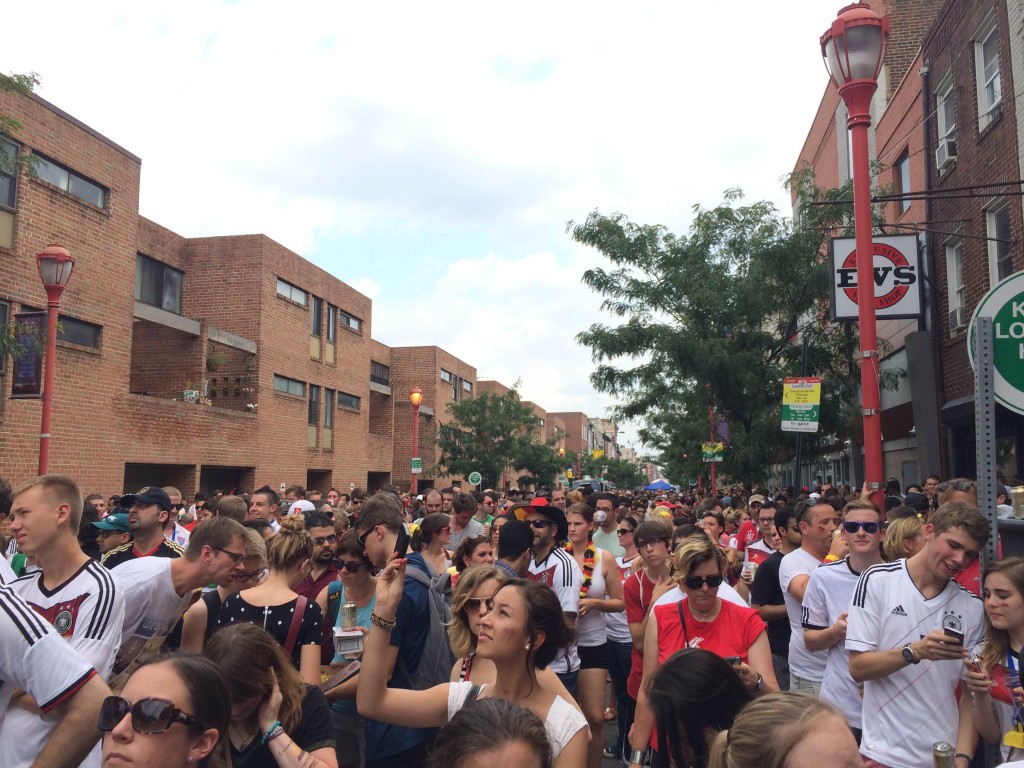 A lot of these fans are German-born and speak fluent German. A lot of these fans are here for the readily accessible beer. But all of these fans are here, watching soccer on a 90-degree day in July, long after the United States has been eliminated.
Germany's Miroslav Klose goes off to thunderous applause, Damon included. He's not a German fan, he says. But he loves the way they play the game.
* * *
In the 111th minute, a man in a black V-neck walks up to his friend behind me and says, "This game is going to penalty kicks. No doubt about it." No more than three seconds after I turn back to the big screen, Mario Gotze scores the decisive marker for Germany. I turn back to see the man's reaction. He stands with one hand on his head, his mouth agape in disbelief while the entire 700 block of South Street erupts in exaltation. Many of these fans arrived here more than five hours ago. A chorus of "Ole!" breaks out amongst the throng. They waited for this; for many of them, they waited since 1990. Some of them waited their whole lives.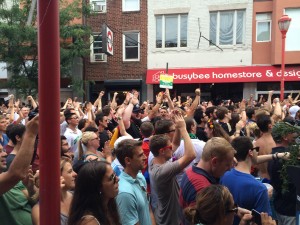 A young boy in a white Germany jersey watched the entire game from atop a parking kiosk, his father standing next to him for balancing support. As bedlam strikes he is handed a Seussian hat, of course in German colors, which he dons as he begins to relentlessly bang on the parking signs next to his head. More German pop songs ring from the massive speakers of the euphoric crash and the boy sings along, a stunned smile stuck on his face, probably for the rest of the evening. He will never forget the day he watched his country conquer the world from atop a parking kiosk.
* * *
After the game has ended I slowly make my way toward the back of the mass of people. A woman in an Argentina jersey approaches me and asks if I'm writing a story about the game, noting the notebook in my hand. I nod my head.
"If you ask me," she says, "the real story here is the turnout. That's the big deal."
At least, that's what I think she said. I couldn't quite hear her over the roar of soccer fans on South Street.