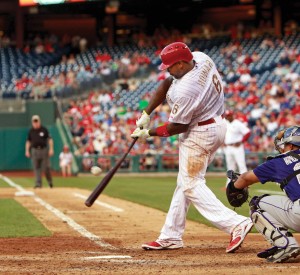 With the first two months of the Major League Baseball season quickly coming to an end, it's time to look at how the Phillies have performed thus far. Unfortunately, this year has not been quite as exciting as previous years, but then again who thought it would be? At 23 wins and 27 losses the Phillies are last in the National League East, but there is always a possibility of resurgence, especially with four months of baseball remaining.
One bright spot this season has been Chase Utley who seems to be hitting and playing baseball like his old self, before knee troubles threatened his career. The 36-year-old second baseman has posted a .335 batting average with four home runs and 26 runs batted in. Utley is also leading the entire MLB in doubles, and so far he is the leader in the National League All-Star votes for second baseman. If he keeps up the votes he will be able to return to the All-Star Game, which he hasn't played in since 2010. Fans who are looking for more to cheer about can look at Jimmy Rollins who has surpassed the great Richie Ashburn for hits as a Phillie, and is just 14 shy of Mike Schmidt's record for most hits in Phillies history.
Moving on from the positives of the season, it's necessary to look at the bad. Ben Revere has impressive numbers. The center fielder is hitting .292 and is eighth in the league in steals with 13. This, however, only masks the real problem with Revere. He may be young and his game may not be based on power, but Revere hit just his first home run of his career May 27 against the Rockies. He had gone over 1400 at bats without a home run up to that point.
This is almost gut wrenching to know that your center fielder contains little to no power, and while he may be getting on base, he also does not seem to hit in timely situations. Revere has just eight RBIs thus far in the season and has scored just 23 runs. In the outfield Revere has become a liability rather than an asset. He may make a few flashy plays, but more times than not he makes a bad read on balls hit to him and suffers from a less than adequate arm. Recently, manager Ryne Sandberg has taken him out of games in late innings because of his poor defense.
From center field to left field, Domonic Brown was supposed to be one of the young players in the organization that could hold some value. Unfortunately, Dom Brown has yet to produce to his full potential. He is a player who can hit the cover off the ball when hot, and his power can be compared to almost anyone in the big leagues. The catch here, however, is making contact. There is something to be said about a guy who has the potential to hit .247 with 42 home runs, and is hitting .203 with just three home runs. Hopefully he can continue to improve and produce closer to his potential.
In continuing to talk about young players, we must talk about Cody Asche. Asche was another player who was supposed to be a cornerstone for the organization. There were high hopes that maybe he could develop into an everyday third baseman, something the Phillies haven't had for a very long time. Just two months into his first full MLB season, Asche is hitting .258 with four home runs and 18 RBIs.
While these numbers are not horrendous, there was hope that Asche would have more of an impact on games than he is having thus far. Asche's fielding is also of concern since he has already committed seven errors. Asche is still very young so there is a chance that he turns a corner and becomes a constantly good player. As of right now, Asche is on the disabled list, trying to recover from a hamstring injury.
Of course there is nothing worth talking about more than the pitching for the Phillies. In the beginning of the season, closer Jonathan Papelbon proclaimed to reporters that the Phillies would have one of the most dominant bullpens in the MLB. Jonathan Papelbon himself has been dominant, positing a 1.86 earned run average and saving 13 games in 14 opportunities. On the other hand, the rest of the bullpen has been playing much worse than previously advertised. Overall, the bullpen has posted a 4.09 ERA and has had tremendous trouble keeping close games in the Phillies' favor. The good news for the bullpen, however, is that it has improved. After April the ERA for the bullpen had inflated and now rests at 21st in the league.
The starting rotation for the Phillies has not been a terrible disappointment in the past two months. Cliff Lee has been the obvious ace of the staff posting an ERA of 3.18 and a 4-4 record. A.J. Burnett, one of the season acquisitions, has also pitched very nicely posting an ERA of 3.51 and a record of 3-4. Kyle Kendrick and Cole Hamels have both struggled some. Both pitchers have ERAs in the fours and their records combined are 2 and 8. This is disappointing, especially for Hamels, who recently signed a hefty deal to be the ace of the staff for years to come.
Hamels can have a bit of a break due to his injury in the offseason, which kept him out until late April, but he must start producing more quality outings as the season progresses. Rookie David Buchanan was a bright spot, recently being called up to pitch against a tough Dodgers lineup, posting a 3.60 ERA and getting his first win in the majors.
Overall, the Phillies need to focus on hitting. They are too inconsistent as a group, which Josh Beckett took advantage of when he pitched his no-hitter against the Phils May 25. In some games they can score with no issues and in others they can barely get a hit. The bullpen needs to continue its slow improvement and the pitching staff needs to continue being decent, while also waiting for Hamels to pitch like his regular old self. There is certainly time for the Phillies to start winning games consistently and gaining traction in the division. One well-played month of baseball in June could see the Phillies fighting among the top of the division.