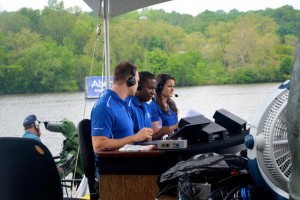 Seeing a former athlete in the broadcast booth has turned into a common occurrence in today's sporting landscape.
However, a sport like crew typically lacks big-name stars, so when Drexel University graduate Alexandra Paulin found her way into the 6ABC booth for the Aberdeen Dad Vail Regatta May 10 and 11, it was quite the noteworthy occasion.
Paulin, who graduated this year with a bachelor's degree in communication, was a successful member of the women's varsity crew team during her time at Drexel. She guided the women's varsity eight boat to a first-place finish at this very regatta her senior year.
One year later, she broadcasted the event for a television audience.
"[Not being part of the race] was a little different," Paulin said, "but being on crew teams, I've watched so many races that I'm not in anyway, so I was kind of used to it."
Paulin stepped into the booth with poise after three co-op opportunities with production assistants at different television stations. She also had numerous medals and four years of collegiate crew knowledge to her credit, which is why she said the experience, while amazing, was not too intimidating.
"I didn't think it was incredibly difficult just because I know the sport so well," Paulin said. "However, I still did a lot of extra research on the teams and the event, looking for any interesting tidbits, which I wouldn't normally do if I were just going to the race."
She also said that a few of her friends from high school who attend other local schools were able to give her information on their respective institutions' teams, an extra insider's advantage for someone who was already an insider.
However, while she and her friends and former teammates know the sport inside and out, crew is not an extremely mainstream sport. Paulin said she and her fellow anchor Ducis Rodgers made an extra effort to explain the rules and terms of crew to their audience, explaining terms such as coxswain along the way.
"[Rodgers] didn't know a lot about crew," Paulin said. "We were going over the rules during the broadcast, and I know the sport well enough to explain it."
The former Dragon said that the hardest part was finding a way to avoid being a biased Blue and Gold cheerleader.
"In the beginning I came in not wanting to be too pro-Drexel as the broadcaster," Paulin said. "As it went on, though, it was impossible. The last hour was a complete Drexel commercial, especially after the men's varsity eight."
After the Dragons' largesse of success at this year's event, it seems that Paulin was the team's good luck charm on channel 6. However, she said she does not have any immediate plan for broadcasting jobs.
"It was a one-time thing, as far as I know," Paulin said. "I would love to work for them in the future, but I'll probably start somewhere a little bit smaller."
As for what we can expect when she does find her way back to the broadcast booth, Paulin said that while it is not her strong suit, she would not be opposed to continuing her young sportscasting career.
"I'm up for anything, really, including sports, but general broadcasting is what I want to do," she said. "In sports I can talk about baseball and crew, but crew doesn't get a lot of coverage, as it's a smaller sport. I couldn't talk about something like hockey during a broadcast, but really, I would cover any topic if I was broadcasting it."
Having proven her ability to represent Drexel and bring luck to the Dragons crew team, it would not be surprising if Paulin appeared on the Dad Vail broadcast team next year, flying the Blue and Gold underneath her broadcast uniform.
The women's team will try for its third straight title in 2014, and the Dragons are bound to need their good luck charm.