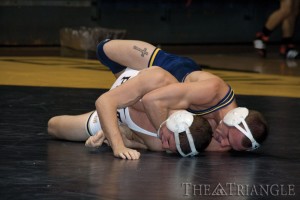 Former Drexel wrestler Steve Mytych took to the matt against Pittsburgh University Nov. 13, 2009. Mytych is now focusing on his Mixed Martial Arts career and hopes to ultimately compete on the professional level.
In the past few years, Mixed Martial Arts fever has been sweeping the nation, and Drexel University's campus is no exception. Former Dragon wrestler Steve Mytych has taken to this new-age sport, and now holds an amateur MMA record of 3-0.
Mytych is hoping for a chance to make his professional debut sometime this October. And why is he so successful? One should look no farther than his more-than-successful collegiate wrestling career.
During his time at Drexel, Mytych accomplished many things, including 137 wins, which now stands as the all-time high for the Dragons' wrestling team. Competing at both 125 and 133 pounds throughout his time at Drexel, the Wyoming, Pa., native qualified for the National Championships four times in five years. He also finished in the top 12 in the 133 pound weight class his senior year.
Also at 133 pounds, Mytych was able to take home the Colonial Athletic Association Championship in 2010. That year, along with earning a top-12 ranking, the former Dragon posted a 36-7 record. As if that wasn't enough, he was recognized as the CAA Rookie of the Year in 2005-06, becoming the first Dragon ever to earn the honor.
Now that his successes in the college ranks are well known, it's obvious why Mytych decided to make the leap into MMA: he was born for success.
In 2008, while still a member of the Drexel wrestling program, Mytych competed in his first amateur fight in Atlantic City. This would be the first of his three victories.
Mytych likes this sport because he feels it fits his personality and his style of wrestling — and it also helps that takedowns are key aspect this sport. Although being a star collegiate wrestler makes for a simpler transition to MMA, Mytych admits that it wasn't all easy, and that he had to now work on more than just one facet of his fighting game, albeit with a skilled and experienced friend.
"Learning jui jitsu [is the most difficult for me]," he said. "It's coming along very well. My trainer and training partner is Jim Hettes, who just recently signed a deal with UFC. He is a childhood friend and is a great teacher."
Mytych has not lost yet in his three competitions, which means that he must be doing something correctly.
"[My] wrestling [experience has been key]," he said. "With the amateur rules, you are very limited in what you can do. So it is really takedowns and submissions."
"I have wrestled on the biggest stage," he said. "[From the] NCAA [Championships] to the world team trials. This has helped me compete hard and be ready to go. For some fighters, this is their biggest stage. Those wrestling experiences have carried me."
Mytych is thinking big, feeling as though he can only go so far in the undercard ranks before he makes the jump to the ranks of the professionals.
"I have aspirations to be the best bantamweight fighter," he said. "I understand it is a process just like with any sport. You have to put the time in to be great and make sacrifices. I am excited to train and fight at the professional level. Hopefully I will be making my debut in October."
Right now it seems Mytych is focused on his amateur MMA career as well as his new coaching position with the Bloomsburg University Wrestling Program.
When the timing is right, he will look to make the jump onto a larger stage of MMA. Who knows, a possible matchup with Uriah Faber could be in his future.