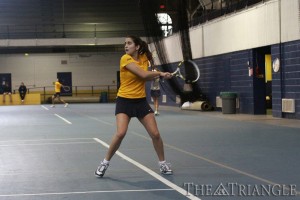 Badr Ouabdelmoumen has come a long way. Now a junior on the Drexel tennis team, Ouabdelmoumen is a long way from his hometown of Rabat, the capital city of Morocco. His tennis game has also come a long way in a short amount of time, defending his Flight 1 singles title and adding a Flight 2 doubles title with partner Daniel Hansen at the Saint Joseph's Invitational Sept. 20-22.
Junior Dan Koehler also added a title for the Dragons, winning the Flight 2 singles title.
The Saint Joseph's Invitational was the first tournament of the fall season for Drexel's men's tennis team, and with Drexel University operating on the quarter system, the Dragons only had one week to prepare. For a player that head coach Mehdi Rhazali thought was "lazy" at times, Ouabdelmoumen's preparation and determination impressed the young coach.
"He actually came back early this summer asking to train, and that's surprising because he can be a lazy guy. He needs to be pushed at times," Rhazali said. "He was asking for matches every day; he lost a lot of weight; he looks fit."
Ouabdelmoumen's improved fitness level surely helped him win his two titles. On Sunday, the final day of the tournament, Ouabdelmoumen played his final two doubles matches and his semifinal singles match. The only reason he didn't play a fourth was because his opponent in the singles final forfeited after a long and tiring match in the semifinals. That was fine with a tired Ouabdelmoumen, although he would have loved to compete fairly for the final.
"I really wanted to play," Ouabdelmoumen said. "The guy that I was going to play, I played him last year and beat him in two sets, so I was feeling pretty comfortable about that. I was hoping to play it actually because it feels better to actually win it."
To win, Ouabdelmoumen beat Henry Jang-Milsten of the United States Military Academy 6-1, 6-4 in the first round; Zack Niklaus of the University of Delaware 7-6, 6-2 in the second; and another Blue Hen, Troy Beneck, in a three-set contest 3-6, 7-5, 11-9. Jose Sierra of Saint Joseph's University was supposed to be Ouabdelmoumen's opponent in the finals before dropping out to give Ouabdelmoumen the title.
There are high expectations for Ouabdelmoumen this season. As a freshman he was named Third Team All-Colonial Athletic Association. Last season, as a sophomore, Ouabdelmoumen became the first Drexel men's tennis player to be named first team all-conference. This year he will need what Rhazali calls Ouabdelmoumen's biggest strength, his confidence, if he wants to achieve his goal of competing at a high level at the all-important Intercollegiate Tennis Association Regionals.
"He has a lot of confidence [and] is one of the most mentally tough players that I have ever met," Rhazali said. "He can tell the other player that he's going to beat them and then do it. Before the tournament he said that he was going to win the title and defend his title from last year, and I told him that I think he can do it."
For his efforts, Ouabdelmoumen was named one of three Colonial Marble & Granite Athletes of the Week by Drexel Athletics, joining golfer Christopher Crawford and field hockey player Elise DiDonato.
Ouabdelmoumen is not the only Drexel tennis player playing with confidence, though. Rhazali was impressed with the women's team's showing at the Cissie Leary Invitational, which was hosted by the University of Pennsylvania Sept. 20-22. Rhazali said that the Cissie Leary Invitational is the best competition the team will face prior to the ITA Regionals at the end of the fall season.
Senior Zeynep Mafa and junior Nicole Pivonka had strong showings in the Flight A main draw, both advancing their way to the Round of 16. Both received a first-round bye before Mafa beat Cassandre Thebault, a strong freshman from the University of Maryland. Pivonka, a Third-Team All-CAA selection last year, beat Melissa Kandinata, a Richmond University junior and the 2012 Atlantic-10 Most Outstanding Rookie Performer.
But the performance of sophomore Erin Bowsher specifically stood out to Rhazali. Coming off a medical redshirt, Bowsher beat her first opponent from St. John's University before falling to a player from Maryland in the Flight B Round of 16.
"For me, putting her in the tournament, my biggest hope is that she gets one win," Rhazali said. "That's going to help her confidence, and that's going to be huge after one year off the court. The Drexel doctors and trainers really helped her out. She came back fit, she lost a lot of weight — she looks good. Then she won her first match."
The Dragons were not to be outdone in doubles, either, with the team of Pivonka and Marcela Rosales advancing to the Round of 16. The duo of Mafa and Fiorella Coria were also able to notch a victory before they were stopped in the second round.
For Drexel tennis, the road ahead is bright. The women's team plays next at the Saint Joseph's Invitational Sept. 27-29, while the men's team has a week off before playing Oct. 5 in the Lehigh Invitational.