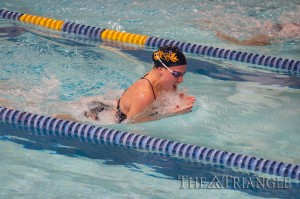 The inevitable events that take place, while expected, can still carry surprising results. In sports, winning and losing are among the few absolutes that still exist. While losing is not a desired result by any means, it is one that will happen to any team at one time or another. Yet what happened to the Drexel men's and women's swimming and diving teams on Jan. 14 in their dual meet in Newark, Del. against the University of Delaware and Northeastern University was, well, strange.
Women's Swimming and Diving
A quick look at the Drexel women's swimming and diving team's 1-5 record may give a first impression of disappointment as the regular season winds down, but the Dragons' head coach and team leaders are thinking otherwise.
"To be honest, I'm really excited," head coach Shawn Markey said. "I've been around for about seven years, and we're looking the best and the strongest we've looked since I've been here."
Despite their positive attitudes, the Dragons are not yet seeing positive results. On Jan. 14, Drexel suffered tri-meet losses to Delaware by a score of 231-56 and to Northeastern 234-59. They were the team's two worst scores of the season and pushed the team's losing streak to five in a row.
Junior Lauren Faykes earned the Dragons' best finishes of the meet, with a second-place time of 2:07.87 in the 200-yard butterfly and a second-place time of 5:09.46 in the 500-yard freestyle. Meanwhile, senior Devina Tyagi finished the 100-yard backstroke with a 58.82 time — good enough for third place in the event.
No other Drexel swimmers earned a top-three finish in the other events, and the team will look to work on a few specific things moving forward.
"In general, we need to work a little more on technique," Faykes explained. "Specifically, our turns need to be better because we started to get beaten off the walls in our last meet."
"It essentially comes down to fundamentals," Tyagi added. "So it's very important to refine those."
Even though their most recent meet was a tough one, the team is looking forward to the Colonial Athletic Association Championships, which take place Feb. 22-25 at George Mason University.
"It was definitely an upset because we were really hoping to have some good times," Tyagi said. "But at the end of the day it's all about Champs. We're really working hard, and even though it was a big loss, we will come back."
Before "Champs," however, the Dragons have three regular-season meets to complete. The first is a matchup with Army at West Point, N.Y. Jan. 20. The Black Knights defeated Drexel last season by a slim score of 154-144.
"Army has strong competitors, and for dual meets like this one, it will be head to head every event," Markey said. "I think if you stand us up next to them, we win. Therefore, it's just about getting prepared and working on specific things, like Lauren said."
The Dragons will then face a quick turnaround as they host Howard University this Saturday, Jan. 21, at Drexel Pool at 1 p.m.
"Howard has some really good swimmers," Markey said. "But they have a small team, not a lot of depth, which is the strength of our team."
Drexel will look to carry momentum into the championshipswith a strong showing in their final meets of the season. As the team continues to work hard and stay positive, there is no question they will have the confidence to make a final push in the CAA.
Men's Swimming and Diving
The men's squad (4-1, 0-1 CAA) lost for the first time this season as Delaware defeated them 214-86.
"It's discouraging to see a point spread that big," Markey said. "They all know where they stand. They know what their competition looks like. Everybody was caught off guard a little bit."
Markey also attributed Delaware's surprise victory to the Blue Hens' implementation of a different game plan in one particular aspect.
"Delaware has not put up times like that all year," he said. "Seeing those results, you know that they had been resting. Our swimmers are tired; they're broken down because of winter training. They had great times, they have some good swimmers, but if you match us up with them, we would have been a lot more competitive had we had more rest."
Nevertheless, there were some bright spots for Drexel. Freshman swimmer Mike Krohn recorded a victory in the men's 100-yard butterfly, posting a time of 51.53. The men's 200-yard medley relay, consisting of freshmen swimmers John Quagilariello, Chad Schmidt, Mike Krohn and sophomore Alex Bagshaw, finished second with a time of 1:35.42. Greg Oprendek posted his best time of the season so far with a second-place finish in the men's 100-yard breaststroke with a final time of 28.13.
With regard to diving, junior Stephen Cal finished second in both the 1-meter and 3-meter events, scoring 273.55 and 297.75, respectively.
Drexel returns to play in meets Jan. 20-21 away against Army and at home hosting Howard. With regard to those meets, Markey remains optimistic.
"There's always room to improve during the season. It's not about one meet, it's about the whole season overall," he said. "They're showing maturity beyond their level, which is promising going forward."