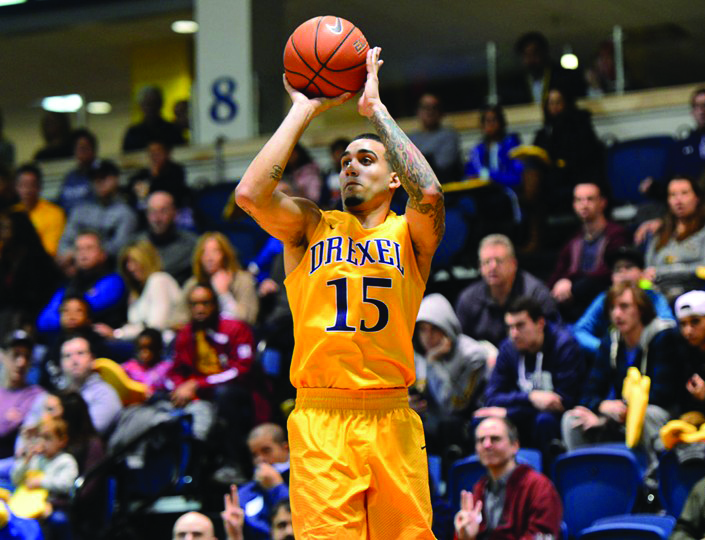 North Carolina is a state well known for its college basketball prowess, with Tobacco Road titans University of North Carolina and Duke University among the sport's "blue bloods" that perennially find themselves playing well into March.
Though the Drexel University men's basketball team didn't face either of those in their two-game road trip this past week, they were reminded that this region's depth of talent is nearly as impressive as its most prestigious pair.
With a matchup against the mighty University of North Carolina at Wilmington casting a foreboding shadow over the weekend, the Dragons had to fight to draw their focus on a significant showdown with the Pheonix of Elon University Jan. 19. Intrigue abounded in this one, with Elon, a traditionally solid CAA team, sporting similar overall (10-9 vs. 7-11) and league (2-4 vs. 1-4) records as their conventionally second-class counterparts. A solid effort for Drexel would therefore be much more significant than an early season CAA win — it might be a sign of a disturbance of power within the league.
Unfortunately, whether it was because of the distance from Cozen Court, the big game in the near future, or just inexperience, it seemed as if the focus just wasn't there from the outset for Drexel.
A pair of turnovers from freshman Kari Jonsson were cashed in for easy buckets in the paint from Dmitri Thompson en route to a 9-0 run to start for Elon. The insertion of graduate student John Moran into the lineup for the Dragons seemed to wake them up briefly, as his three-pointer with just under 12 minutes left in the first half brought his side back to within one point before the game yo-yo'd back to the Phoenix's direction.
After pulling back ahead by 10 by halftime, and further to 17 shortly after the break, it became clear that even Moran's hot touch from the outside, five of seven from deep, wouldn't be enough for the Dragons to claw their way back into this one. Elon eased ahead and cruised to a 93-73 victory.
Just two short days later, Drexel entered Trask Coliseum to face the league's most potent team in UNCW Jan. 21. On paper, it looked like the visitors might have a tough time keeping up with their hosts. The Seahawks have continued to ride their strong March momentum from last season into this year's campaign, which has crystallized into a 19-2 record, including a flawless CAA record.
However, as was the case when the two sides met just a few weeks ago, the brazen Dragons refused to be intimidated by UNCW, absorbing another early blow from the home side.
This time it was senior Mohamed Bah who stymied the bleeding, converting an and-one that pulled Drexel ahead by one at 11-10. A neck-and-neck first half ensued, with senior Rodney Williams' 10 points keeping pace with the ferocious rebounding of UNCW's Devontae Cacok, who had 14 in the first period alone.
As the game wore on it seemed as if Drexel just ran out of legs. A five minute dry spell in the second half doomed Zach Spiker's side, who, despite a flurry of substitutions in that time frame, simply couldn't find an offensive answer. On the other side, easy second chance points, 22 for UNCW on the day compared to just eight for Drexel, were just too much to overcome. In the last 13 minutes, the Dragons never saw their deficit shrink to single digits, ending the night with a 13 point loss.
Drexel will look to rest up and put this trip behind them, with a pair of home matchups with Hofstra University Jan. 26 and the College of Charleston Jan. 28.