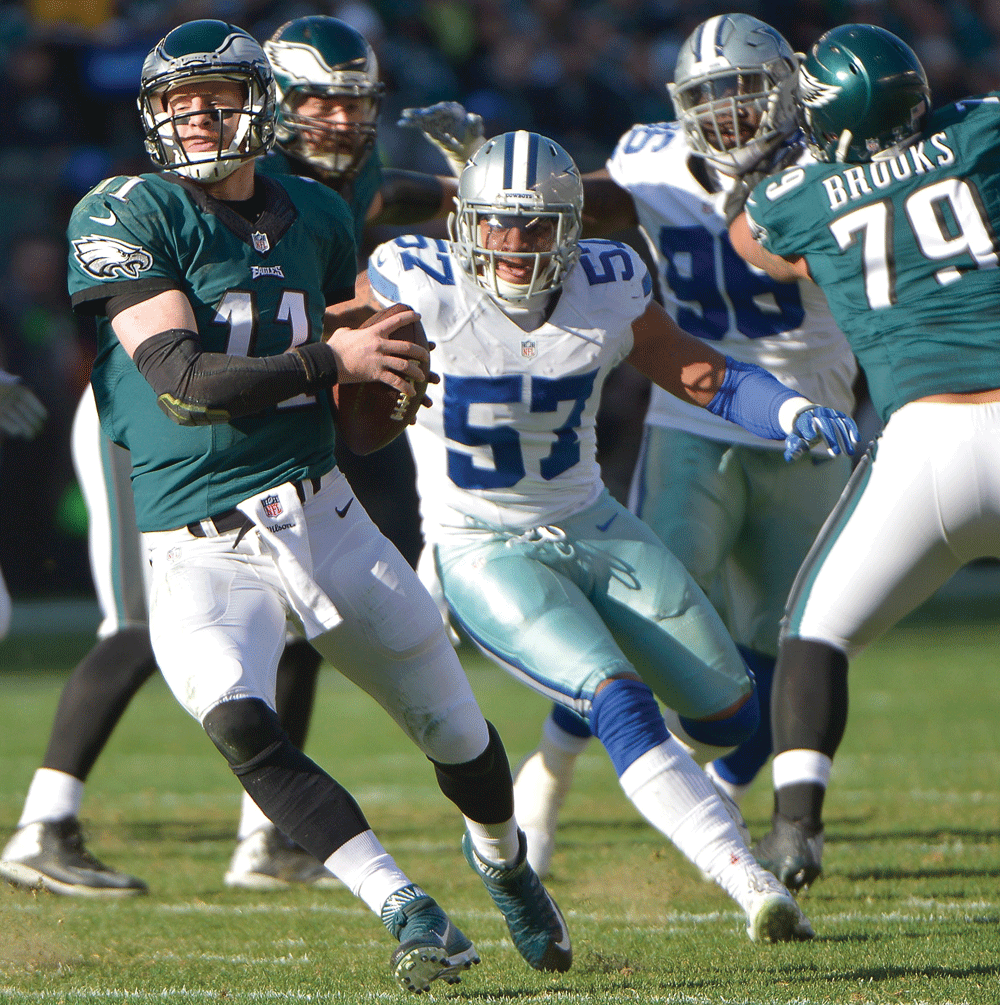 Hot takes and bold predictions are what make sports conversations fun. That's why, for the second year in a row, I will try to accomplish the impossible task of predicting— way too early— game by game results for the NFC East.
During the 2016 National Football League season, the four teams in the NFC East combined for 39 wins, which was the highest win total by any division. With the current makeup of each roster, 2017 could prove to be just as competitive.
Much like I did last year, I will break the season down into three parts, with weeks one through five being featured in this edition. But before we get into the game picks, let's take a look at how each team stacks up as we approach the beginning of the season.
Dallas Cowboys: Coming off of a season in which they won 13 games with a rookie quarterback and running back, the Cowboys are the favorite to win the NFC East in 2017. With arguably the best offensive line in football and a plethora of scoring weapons, Dallas has a high powered offense that can score on almost anyone. However, no team has repeated as division champion since the Philadelphia Eagles did in 2003-2004, so the Cowboys have history working against them. It also does not help that Ezekiel Elliott is having off field issues and defensive linemen David Irving and Randy Gregory will both be facing suspensions.
New York Giants: Behind the strength of its defense, New York went 11-5 in 2016 and reached the playoffs for the first time since 2011. With that elite defense returning most of its key contributors, the questions for the Giants lie on the offensive side of the field. In the offseason, the Giants added wide receiver Brandon Marshall to their roster in hopes of freeing up coverage on Odell Beckham Jr. They also drafted Evan Engram, an athletic tight end who is New York's first legitimate receiving threat at that position since Kevin Boss. However, the Giants did basically nothing to address the left tackle and running back positions, which were arguably their two biggest problems last year.
Philadelphia Eagles: Following an up and down season in which they finished 7-9, the Eagles acquired some significant offensive weapons. Not only did they sign receivers Alshon Jeffrey and Torrey Smith, but they also picked up running back LeGarrett Blount, who led the entire NFL in rushing touchdowns last season. Now that Carson Wentz has some legitimate targets, you can expect to see him put up some big time numbers. Concerns for the Eagles will be with their defensive secondary, which happened to be ranked as the worst in the league last season by Pro Football Focus.
Washington Redskins: Ten years ago, if a player threw for close to 5,000 yards and completed 67 percent of his passes, it would have been considered one of the greatest quarterbacking seasons in NFL history. Unfortunately for Kirk Cousins, this is not 2007. With Cousins once again being franchise-tagged by the Redskins, the organization continues to show a lack of faith in their quarterback. It does not help Cousins that his two lead receivers from 2016, Desean Jackson and Pierre Garcon, departed through free agency in the offseason. With few significant improvements made to their roster relative to the rest of the division, the Redskins could be in for a long 2017 season.
Week 1:
We won't have to wait long for the first NFC East matchup of the year, as the Eagles will go on the road to play the Redskins at 1 p.m. on Sept 10. In their first regular season game on the field together, Carson Wentz and Alshon Jeffery will make it known how dominant of a tandem they can be. Wentz will throw three touchdowns, with two of them being hauled in by Jeffery. Kirk Cousins will do his best to keep Washington afloat, but his fourth quarter comeback effort will fall short after an interception near the three minute mark. Philadelphia will hold on for a 27-20 victory.
For the third year in a row, and fourth time in five years, the New York Giants will open the season on the road against the Dallas Cowboys. It will be the first Sunday Night Football game of the season, with kickoff scheduled for 8:30 p.m. Sept. 10. New York's offense will get off to a hot start, with Eli Manning finding Brandon Marshall in the end zone to cap off an impressive opening drive. Dallas will answer with a scoring drive of its own, but New York's defense will clamp down after that. Due to a lack of talent on Dallas' defensive line, Manning will have all day to throw against the Cowboys as he throws for 300 yards and three touchdowns. The Cowboys are able to overcome New York's defense in the fourth quarter, but it's too little too late. New York Wins 31-21.
(NYG 1-0, PHI 1-0, DAL 0-1, WAS 0-1)
Week 2:
The Eagles go on the road to face a familiar foe 1 p.m. Sept. 17: Kansas City Chiefs head coach Andy Reid. Behind a strong defensive effort, the Chiefs lead for most of the afternoon. However, Wentz is able to come through in the clutch and deliver on a go ahead drive to give the Eagles a 17-16 lead with three minutes remaining. Unfortunately for Philadelphia, Alex Smith is able to get the Chiefs in field goal range and set up a game winning kick as time expires. Chiefs win 19-17.
Looking to recover after a tough loss in their home opener, the Redskins go on the road to Los Angeles to take on the Rams 4:25 p.m. Sept. 17. Cousins gets off to a hot start in the warm weather and throws for 200 yards in the first half. Behind a solid performance from their quarterback, Washington pulls out a 24-20 road victory.
Dallas travels to the mile high city to take on the Denver Broncos 4:25 p.m. Sept 17. Denver's defense is able to pressure Dallas' offensive line all evening long. However, the Cowboy's defense plays well against Trevor Siemian and company. In a close defensive battle, Dallas comes away empty handed. Denver wins 17-14.
New York plays its home opening game against the Detroit Lions on Monday Night Football 8:30 p.m. Sept. 18. Manning struggles in the first half, throwing two interceptions as the Giants fall behind by 10 points. Despite his early struggles, Manning is able to find his stride in the fourth quarter and lead a late game go ahead drive, which is capped off by a touchdown pass to Sterling Shepard. Eli Apple intercepts Matthew Stafford to seal Detroit's fate and the Giants win 24-20.
(NYG 2-0, PHI 1-1, WAS 1-1, DAL 0-2)
Week 3:
The Giants have lost the past three games they've played at Lincoln Financial Field, and that streak will continue when New York goes on the road to play the Eagles 1 p.m. Sept 24. Wentz dazzles the home crowd with a spectacular first half performance against New York's top ranked defense. Philadelphia's front seven is able to apply pressure on Manning and keep New York's offense at bay. The score going into halftime is 17-7 in favor of the Eagles. However, the tide turns in the third quarter. New York's offensive line is finally able to provide Manning with protection as he picks apart Philadelphia's secondary. The Giants take a 21-17 lead with four minutes remaining, but they leave too much time on the clock for Wentz. After struggling for most of the second half, Wentz delivers on a clutch comeback drive to put Philadelphia ahead for good. Eagles win 24-21.
Washington takes on the Oakland Raiders in a primetime matchup on Sunday Night Football. However, the game gets out of hand quickly as David Carr lights up the Redskins with three touchdown passes in the first half. Cousins plays well, but is unable to rally his team and the Raiders come away with a 35-24 win.
Dallas travels to Arizona for a Monday Night Football matchup with the Cardinals 8:30 p.m. Sept 25. Ezekiel Elliott explodes for 130 rushing yards and two scores. Dak Prescott plays well, and the Cowboys pick up their first win of the season 28-17.
(PHI 2-1, NYG 2-1, DAL 1-2, WAS 1-2)
Week 4:
After picking up their first win of the season in week three, the Cowboys keep things rolling in their Oct. 1 home game against the Los Angeles Rams. The Rams have no answer for Elliot, who runs for over 100 yards. Prescott throws three touchdowns without putting the ball in harm's way and the Cowboys go on to win 31-17.
New York makes a trip south to Tampa Bay, Florida, to take on the Buccaneers. Tampa's offense, which features Jameis Winston, Mike Evans and Desean Jackson, gives New York problems all evening long. In somewhat of an offensive battle, the game is tied at 28 with three minutes to go. Winston leads the Buccaneers on a game winning field goal drive, putting Odell Beckham Jr.'s 130 yard receiving performance to waste. Buccaneers win 31-28.
Riding high off of a comeback win against a rival, the Eagles travel to Los Angeles to play the Chargers. Wentz lights up the Chargers' defense in a four touchdown, 350 yard passing performance. Philly's defense is able to hold Phillip Rivers in check for most of the game. Philadelphia comes away with a 34-21 win.
Washington continues to struggle, this time in a road game against the Kansas City Chiefs on Monday Night Football Oct. 2. Kansas City's defense intercepts Kirk Cousins three times, and Alex Smith plays ball control for the Chiefs. Kansas City wins 17-10.
(PHI 3-1, DAL 2-2, NYG 2-2, WAS 1-3)
New York plays the Chargers at home 1 p.m. October 8. Manning has a big game, throwing for 300 yards and three touchdowns. Philip Rivers struggles against pressure from the Giants defensive line all afternoon. Olivier Vernon gets two sacks, and Landon Collins picks off Rivers on his final drive. Giants win 27-17.
The Eagles take on the Cardinals in a 1 p.m. home game at the Linc Oct. 8. Sadly for the Eagles, they catch David Johnson and the Cardinals offense on a bad day. Johnson runs for 130 yards and two scores. Arizona's defense puts pressure on Wentz, forcing him to throw two interceptions. Arizona shocks Philadelphia in a 21-17 win.
In a rematch of last years epic NFC Divisional Round, the Cowboys host the Green Bay Packers for a game 4:25 Oct. 8. Once again, Dallas and Green Bay trade punches in an offensive showdown. Aaron Rodgers throws for 300 yards and four touchdown passes, but Prescott has the last laugh. The second year quarterback leads a last second drive to set up a field goal as the clock expires. Dallas wins 34-31.
Washington is on its bye week.
(DAL 3-2, PHI 3-2, NYG 3-2, WAS 1-3)