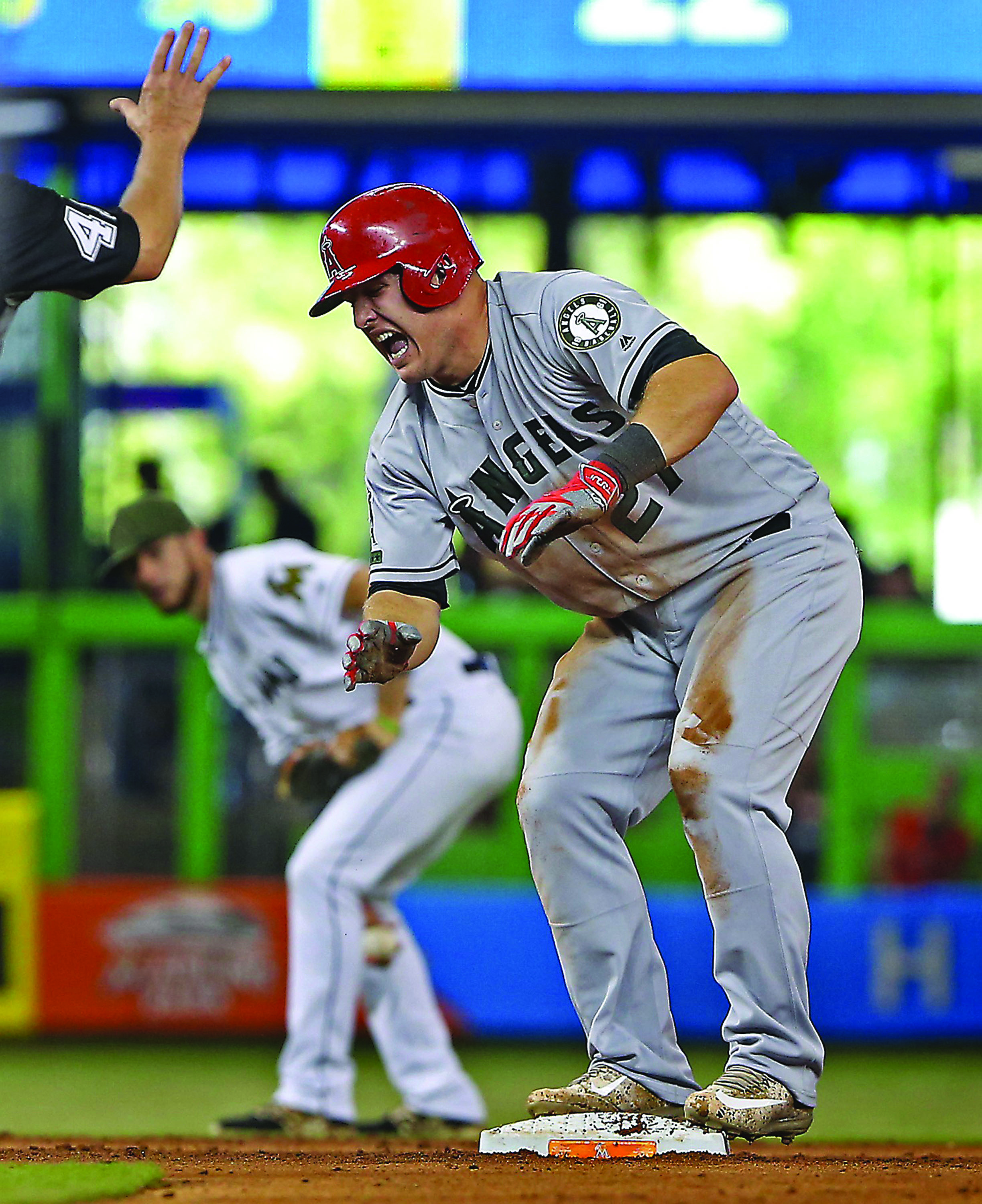 Los Angeles Angels of Anaheim star outfielder Mike Trout will undergo surgery to repair a torn ligament in his left thumb, an injury he suffered May 28.
Recovery time from the surgery is an estimated six to eight weeks.
Trout's injury is particularly frustrating to both him and baseball fans everywhere because the 25 year old was off to the best start of a season in his phenomenal six year career. In each of his first five seasons in Major League Baseball, Trout finished in no worse than second place for the American League most valuable player award, winning it twice (in 2014 and 2016).
At the time of his injury this week, Trout was leading the league in home runs (16) and was among the leaders in batting average (.337) and RBIs (36). Though it is still early in the year, one could only imagine that, had he been healthy all year, Trout would have had a chance to contend for the triple crown. He was also MLB's leader in walks (36), OBP (.461), SLG (.742), OPS (1.203) and OPS+ (225).
If he were able to sustain numbers like that for an entire season, Trout would not only be the clear cut favorite for MVP, but he would also have a year that many experts would consider one of the greatest hitting seasons of all time. It's just a shame that this injury had to occur when Trout appeared to be taking a step forward in his game, which was greatly unexpected considering how well he had already played throughout his career.
Adding a third MVP to his mantle would have greatly boosted Trout's resume. Only seven other Major Leaguers have won at least three MVPs. The only player to ever win more than three MVPs was Barry Bonds, and he holds the all-time record with seven.
With Trout being the ripe young age of 26 by the end of this year, a third MVP trophy would have given him both a legit shot to become MLB's second four time MVP and also a glimmer of hope of one day matching Bonds' record. Sadly, however, this scenario is now a mere hypothetical.
For baseball fans, its likely tough to bear this news. The game has undoubtedly declined in popularity over the past decade. If you don't believe me, just ask your friends if they know who Mike Trout is, and see how many can answer without looking him up on their phones.
It would have been blasphemy for someone in the 1950s not to know who Mickey Mantle was, but significantly less people know of Trout in today's world. That is sad when you consider the fact that Trout has a chance to eclipse not just Mantle, but perhaps everyone who has ever played the game. The MLB has arguably never had a more complete player, but the league has also never had so poor of a following, and now that Trout is hurt, so too are the few who still passionately follow America's pastime.