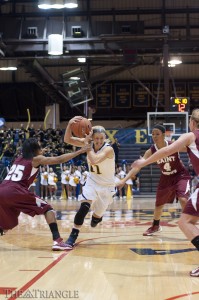 Every successful basketball team has leadership at the helm of its squad, be it a couple seniors who have been around the block or the best player on the team taking up the cause.
For the Drexel women's basketball team, it's no different, and senior Hollie Mershon has answered the call after Kamile Nacickaite and Tyler Hale graduated, taking their combined 25.5 points per game with them.
Mershon may have averaged the most minutes per game on the team and been voted the team's Co-MVP last year as well, but she's truly stepped into her leadership role in her final season as a Dragon.
"We lost four seniors, and we definitely needed to fill the role of vocal leader with someone like [Hale] having graduated," Mershon said when asked about the need for a leader on this year's team. "That was something that needed to happen. In that way, I've developed into more of a vocal leader in helping out the younger players as they get familiar with what to do."
And she has also decided to lead the team by example. Through the first six games of the year, Mershon, the Preseason First-Team All-Colonial Athletic Association selection has been on an absolute tear. She leads the Dragons in scoring with 19.0 points per game and also contributes 7.7 rebounds per game, an impressive amount for a guard. Her efforts in Drexel's first game against Providence College ­— 24 points, nine rebounds and five assists — were enough to garner her a CAA co-Player of the Week award.
She also piloted the team to its first in-season tournament title since 2000, winning the Long Island University Turkey Classic in Brooklyn, N.Y., with relative ease. In the title game against Colgate University, Mershon shot 50 percent from the field and scored 18 of the Dragons' 51 points en route to an 18-point victory.
Yet if you ask her whether or not she wants the ball in a game-winning situation, she exemplifies another key facet of a leader: selflessness.
"If there was a situation with no timeouts where we had to improvise on the floor," she explained, "I would probably be trying to get the ball to someone who had the hot hand that night or someone that I think is willing to take that last shot. I think this is a team with a lot of different options for that type of situation, so I don't think it necessarily would have to come down to me."
And it's that kind of playmaking ability that makes Mershon so valuable. While she is undoubtedly an impressive scorer, as she has proven all year, she also possesses vision that allows her to find her teammates all over the floor.
In a tight game against Saint Joseph's University earlier this year (the team's only loss thus far), she displayed both her scoring touch and her playmaking ability early on. Just 4:43 into the game, the Dragons found themselves down to the Hawks by seven points, 12-5. Rather than forcing shots and making ill-advised decisions, Mershon instead made one shot herself, assisted the next Drexel bucket, made another layup, hit a free throw and then assisted another Taylor Wootton bucket. Just 5:09 after the team was down by seven, Mershon had orchestrated the offense to an 11-4 run with five points and two assists, contributing in part to nine of the 11 points on that run.
That stretch of five minutes in the St. Joe's game was only a snapshot of the prowess that Mershon displays on a nightly basis. As she and her team march on after Wednesday night's tough overtime loss to the 24th-ranked University of South Carolina, their leader has high expectations for their future.
"We've had a strong start so far, but there is a lot that we need to improve on for future games," Mershon said. "Our goal at the end of the day is to be able to keep our postseason streak alive. We need to keep focusing on the defensive end this week, going up against some bigger and stronger teams."