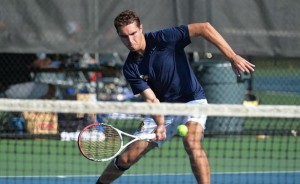 After a four month break, the Drexel tennis teams geared up for the 2014-15 regular season with various invitationals to kick off play.
Last week the men's team that played in the Saint Joseph's Invitational. Senior Badr Ouabdelmoumen and junior Xabier Saavedra were chosen to represent Drexel in flight one for singles play.
Ouabdelmoumen initially entered with a bye and came out of the gate with a victory over Villanova University's Mark Miller in three sets. He then dropped Pierre Brondeau of Saint Joseph's University in three sets as well as the U.S. Military Academy's Michael Nguyen to enter the finals. Unfortunately, he would lose to Bucknell University's Nick Bybel for the title, a defeat which denied Ouabdelmoumen a "threepeat" of the singles title which he won in 2013 and 2012.
Nevertheless, head coach Mehdi Rhazali was caught by how Ouabdelmoumen endured throughout the tournament.
"I was impressed with how Badr Ouabdelmoumen won three matches to reach the finals after two consecutive years winning the entire tournament. He showed mental toughness and great fitness even though he wasn't 100 percent healthy."
Saavedra would ultimately fall to Bybel in the straight sets early in the tournament. Flight two featured seniors Alex Fioravante and Dan Koehler.
Fioravante would open with a straight set victory over Blest Jones of Loyola University Maryland, 6-2, 6-4. He would make it to the quarterfinals where he would fall in 2-6 straight sets to University of Delaware's Tim Puterio. Koehler was the beneficiary of a bye into the first day matchup where he would grind through a three-set victory over Brett Shriver of Loyola, 2-6, 6-3, 10-8. Koehler's journey would take him to the quarterfinals where he would lose in straight sets to Saint Joseph's Tristan Boustany.
Daniel Hansen and freshman Kashyap Ashok took the court in the third flight. Ashok dominated his first match out of a bye in straight sets over Ben Gerber of Bucknell. He would be bested in three close sets, 7-6 (4), 2-6, 9-11, to Saint Joseph's Jason Sisti. Hansen would make it to the quarterfinals where he would fall to Bucknell's Bryan Adams in straight sets. Freshman Vuk Subotic was lone Dragon in flight four. The freshman would blaze through his first two matchups in straight set wins. Subotic would make it to the semifinals where he would fall to Alastair Hurry of Villanova in three hard-fought sets, 6-4, 3-6, 2-10.
Coach Rhazali was encouraged with what he saw from the newcomers: "The tournament helped the new student-athletes that joined the team see what college tennis is about, see the intensity and the positive body language and communication we try to carry to every match as a team, not only as individuals. It also helped us build the team chemistry earlier in the season."
In the flight one doubles, Ashok and Fioravante would beat their Saint Joseph's opponents, 8-5. They would lose 4-8 to the future champions Bucknell. They weren't the only Dragons in flight one as Koehler and Saavedra were also playing. They clashed with Delaware where they came away with a win. They would get ousted by Loyola, 6-8 in the next round. In flight two doubles, Ouabdelmoumen and Hansen narrowly lost to Bucknell, 8-9.
The men's team takes their talents to the Penn Invitational Sept. 26. The women's team begins their season on the same day where they'll take a crack at the Saint Joseph's Invitational.