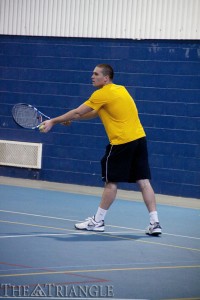 The Drexel men's tennis team won its second consecutive dual match Jan. 29 by defeating Morgan State University 6-1 at the Drexel Armory. After dropping the doubles point, the Dragons won all six singles matches to clinch the victory.
The Dragons fell behind early after conceding two of the three doubles matches on the courts. Freshmen Badr Ouabdelmoumen and Dan Koehler won their match at No. 3 doubles 8-4, but Drexel dropped the other two. The best doubles match of the day came at the top spot, where sophomore Skyler Davis and senior Bryan Nguyen came up just short in a tiebreaker set, falling 9-8 (7-4).
In singles play the Dragons were unrelenting and unforgiving. They dismantled the Morgan State team. Ouabdelmoumen made short work of his opponent at No. 1, 6-2, 6-3. At No. 2, junior Jeganathan Srinivasan almost shut out his opponent 6-0, 6-1. Freshman Daniel Hansen, however, did shut out his opponent, winning 6-0, 6-0 at No. 6 singles. Nguyen battled to a 6-4 win in the first set before cruising 6-1 in the second, while Davis earned a 6-2, 6-3 win at No. 4. Finally, Paul Stauskas won at No. 5, 6-1, 6-4, to complete the rout.
The Dragons will return to the courts Feb. 4 when they face another Mid-Eastern Athletic Conference squad, Coppin State University, at the Drexel Armory at 10 a.m.
The women also return to the courts at the Drexel Armory at 1 p.m. The women hope to continue their winning ways after defeating St. Francis University (Pa.) 4-0 Jan. 22.
With two home matches remaining on this current homestand for both the men's and women's teams, the Dragons look to depart for their future road trip on winning ways.