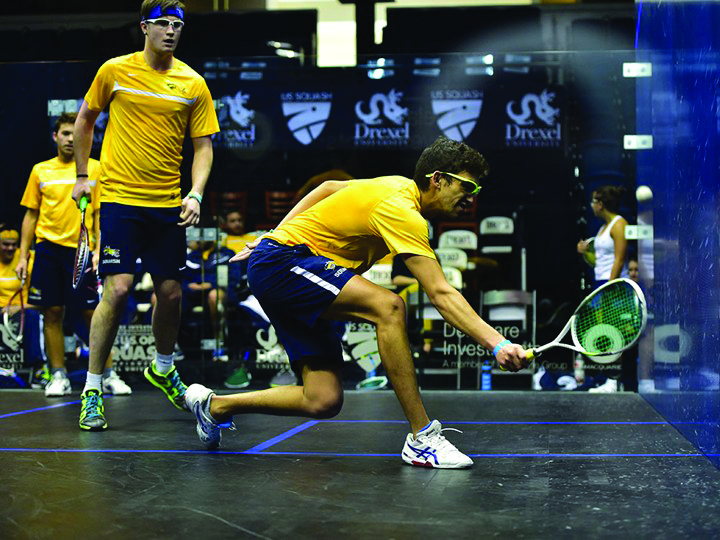 The No. 9-ranked Drexel University men's squash team upset the No. 6-ranked University of Pennsylvania Quakers in a 5-4 home victory Nov. 30. The match marked Drexel's first-ever victory over the Quakers in men's squash and the Quakers' first loss of the season.
Strong performances came from sophomore Omar El Atmas and senior Michael Thompson. Playing in the No. 2 spot, El Atmas won his match in five games — 8-11, 11-4, 11-4, 8-11, 11-6 — after falling behind early with a first game loss.
Thompson's victory from the No. 4 spot sealed the Dragon's win, as he won his match against Penn's James Watson in five games — 11-8, 11-8, 6-11, 4-11, 13-11.
Freshman Lucas Rousselet, junior Luke Willemse and freshman Mostafa Aboul Makarim also won their matches. The upset victory brings the team's record to 4-2 as they head to Middlebury, Vermont, to face No. 15 Middlebury College on Dec. 2 and then to Williamstown, Massachusetts, to face No. 18 Williams College on Dec. 3.
The No. 10-ranked Drexel University women's squash team went 1-2 in three games on Nov. 19 and 20. The Dragons fell in a 9-0 sweep to No. 7-ranked Columbia University and in an 8-1 loss to No. 3-ranked Trinity University, but picked up their first victory of the season with a 7-2 victory over No. 18-ranked Bowdoin College.
In the road victory over the Bowdoin, junior Ryan Morgan, sophomore Fiona Power, senior Kaitlyn Money and senior Kristine Giltvedt picked up clean sweeps in their matches from the No. 1, No. 3, No. 6 and No. 7 spots, respectively.
Junior Jennifer White also picked up a victory in her match against Bowdoin's Perla Rubi in a come-from-behind, five-game match — 10-12, 9-11, 11-8, 11-5, 12-10 — after dropping the first two games. The victory marks her first career victory.
The victory improves the women's record to 1-3 as they prepare for road matches against No. 4-ranked Princeton University, No. 15-ranked Middlebury and No. 12-ranked Williams.