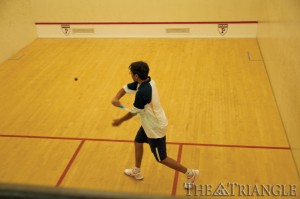 A season is, in its most basic form, a journey. Every journey has its peaks and valleys, zeniths and nadirs. Such can especially be said for the Drexel men's squash team in its inaugural season.
As the season comes to a close, the Dragons finished with a solid final performance as a team at the Collegiate Squash Association Team Championships at Princeton University Feb. 17-19. The Dragons went 2-1 overall and won the consolation final of the Conroy Cup by defeating Johns Hopkins University 8-1, earning themselves the No. 29 national ranking for the season.
Things did not start off well for Drexel, though, as they lost their opening match to Georgetown University 5-4. The defeat was tough to swallow for the four players who walked away with a win. Among them were Justin Singh, Sebastian Dangond Gala, Nick DiDonato and Vinayak Kalani. Though the rest of the Drexel players put up a good fight, Georgetown staged a furious comeback to take the match and advance to the semifinals.
Undeterred, the Dragons rebounded nicely to win their final two matches against the Massachusetts Institute of Technology and Johns Hopkins, each ending in a final score of 8-1.
Though both matches were played competitively, the Dragons truly shined against Hopkins when four players came back from 2-0 or 2-1 deficits to win their individual matches.
This 8-1 victory served as a rousing conclusion to the season.
With that said, the season is not finished yet for the men, as the likes of Singh (16-2 overall) and others will compete in the College Squash Association Individual Championships March 2-4 in Amherst, Mass.
Singh will be competing against some top competition. The Individual Championships will be hosted by Amherst College. Headlining Singh's competition will be last season's champion, Todd Harrity of Princeton University, the No. 2 team in the nation.