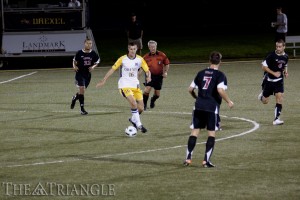 Coming off two thrilling Colonial Athletic Association wins in a row, the Drexel men's soccer team held a 2-1 advantage over Georgia State in the second half during an Oct. 15 match. With 40 minutes remaining, it looked as if Drexel would finally seal its first road victory of the season.
The Dragons (3-9-2, 2-4-1 CAA) yielded a goal in the third minute to Georgia State senior forward Ayokunle Lumpkin and faced an early deficit. In the sixth minute, Drexel sophomore midfielder Ken Tribbett responded by finishing a header on a free kick from junior midfielder Brandon Zeller.
The 1-1 draw carried into the second half until junior midfielder Malcolm LeBourne broke free from the Panther defense and buried a shot in the 52nd minute to put the Dragons up. The lead lasted just 20 minutes, and then it was the "Evan Scott Show."
Scott, a sophomore forward for Georgia State (10-4-1, 4-3-0 CAA), tied the score with  a 71st-minute header on a cross from the right side. He then proceeded to rattle off two more goals, both in the 85th minute, to finish the hat trick and stun the Dragons with a 4-2 final.
"We let ourselves get drawn into a more physical and fast-paced tempo," junior defender Ben Miller noted. "We are a team that likes to move the ball and play tactical soccer, and I think we got away from that after we scored in the second half."
On Oct. 19 the team returned home to Vidas Field for a matchup with rival Hofstra (6-7-0, 3-4-0 CAA). There was a steady rain throughout the game that greatly affected play, leading to a sloppy, slippery and scoreless first half.
"Being a defender, it is a difficult task trying to judge how a ball is going to skip or react when it hits the turf," Miller said. "On the offensive side it makes connecting the ball difficult because every ball you play is going to be coming to your teammate a lot faster."
Although the Dragons held a 9-4 shot advantage in the first half, including 4-1 in shots on goal, they could not get one on the scoreboard. In the 61st minute, Hofstra sophomore midfielder Chris Griebsch capitalized on a loose rebound from a free kick and put the Pride ahead 1-0.
"It's never fun to play under conditions like those because it takes away some of the options you want to have as a team," Miller said. "You want to play as simple as possible and get as many shots on goal as you can because the keepers are at a severe disadvantage under windy and wet conditions."
It was the only goal that Drexel sophomore goalkeeper Pentti Pussinen allowed on the night. However, Pussinen could not best his counterpart, Hofstra sophomore goalkeeper Roberto Pellegrini, who stopped all seven shots he faced as the Dragons were shut out for the ninth time this season.
Defense has definitely not been the issue for Drexel this season, allowing only 19 goals in 14 matches. The average of 1.4 goals against is the Dragons' best since 2007, when the team finished with an 11-5-3 total record, including 8-2-1 in CAA play.
"The communication from our back four has been much improved this year, compared to my previous years here," Miller added. "Talking to each other on the field is a big part of our game, and letting your teammates know where to be really helps as a unit."
The team will stay home for its next match against Virginia Commonwealth University Oct. 22 at Vidas Field at 4 p.m., when the Dragons will look to avenge their 2-0 loss to the Rams last season. Drexel will then head to Boston to play Northeastern Oct. 26, a team they have not beaten since a 2-1 double-overtime victory in 2008.