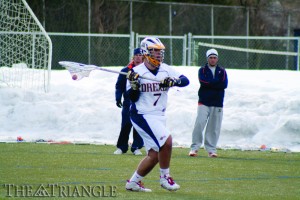 Recently, one of the greatest honors a college athlete can receive was bestowed upon a Drexel men's lacrosse player.
Mark Manos, the Dragons' goalkeeper, was selected in the third round of the Major League Lacrosse draft, which was held Jan. 13 in Philadelphia, by the Charlotte Hounds, a new expansion team of the MLL.
Manos was selected 20th overall with a pick Charlotte received in a trade with Long Island. To be selected in a draft chock-full of talented players is a tremendous honor for Manos.
The first pick in the draft was Cornell University attacker Rob Pannell, who was taken in the first round, which also included three players from Duke University and two from the University of Virginia. Some fellow Colonial Athletic Association players were also drafted with Manos, including the University of Massachusetts' Anthony Biscardi and Tom Celentani, Penn State University's Matt Mackrides and the University of Delaware's Grant Kaleikau.
Manos' selection should come as no surprise to anyone who has followed the career of this sensational senior netminder from West Chester, Pa. Manos took over the starting job with the Dragons midway through his freshman year, and he never looked back. He won the CAA's Freshman of the Year award in 2009 when he finished ninth in the country in save percentage.
In 2010 Manos added some more hardware to his ever-growing collection when he was named Third Team All-American, First Team All-CAA and CAA Defensive Player of the Year. He led the CAA in goals-against averaging (8.29), save percentage (.585) and saves per game (11.27), not to mention finishing seventh in the nation in save percentage. Most importantly, though, Manos led the Dragons to four wins against top-10 teams that year.
During his junior year, Manos was named an Honorable Mention All-American and finished 11th in the nation in save percentage (.563). He had 11 or more saves during 10 different games and finished that season with 166 total saves.
Charlotte is obviously getting a great goaltender whom they hope will be a fixture between the pipes for seasons to come.
Manos is the first Drexel athlete to be named to two All-American teams in 40 years.
Of course, before Manos makes the jump to the big leagues, he still has some unfinished business to take care of at Drexel.
The Dragons' regular season starts up Feb. 18 when they welcome national powerhouse University of Virginia to Vidas Field. Manos and Drexel also take on the University of Notre Dame, Bucknell University and a full docket of CAA games this year, including bouts with St. Joseph's University, Penn State, UMass and the University of Delaware.
Drexel looks to improve upon last year's 8-6 mark and take advantage of having one of the best goalies in the nation.