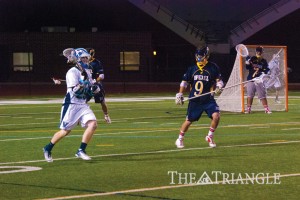 The Drexel University men's lacrosse team continued on with its season March 24 and 31, coming from behind twice to defeat No.19 Hofstra University 6-5 and the archrival University of Delaware 11-8. The wins ran the Dragons' winning streak to three games, which started with a 10-7 win against Mount Saint Mary's University March 17, and also improved their overall record to 5-5 and their Colonial Athletic Association record to 3-0.
Both games were off to a rocky start for the Dragons. Drexel came back from significant deficits in both games, at one point trailing Hofstra and Delaware 4-0 and 3-0, respectively. Nevertheless, they shrugged off those slow starts and came back admirably to win on both occasions.
The Hofstra result was notable in the sense that it came against a top-20 team. After the first quarter, in which they were down 4-0, they slowly but surely chipped away at the Hofstra advantage. A goal by senior midfielder Kyle Bergman with 1:11 in the second quarter made it a 4-1 game heading into the third. Junior attacker Robert Church made it 4-2 early on in the second, but Hofstra answered with a goal from freshman attacker Tyler Begley eight minutes later and increased the Hofstra lead to 5-2. Hofstra would not score again and would only muster six shots in the final quarter as Drexel began its comeback. Four consecutive goals from Church, redshirt freshman attacker Andrew Vivian, sophomore midfielder Deven Thomas and senior defenseman Dana Wilber capped off a spirited late effort by Drexel.
A week later, Drexel had a similar display against rival Delaware.
"Delaware is struggling this year, but they beat us three times last year," head men's lacrosse coach Brian Voelker said. "We did what he had to do, though.".
Voelker's words were spot on, even if they didn't come into fruition until late in the game.
Within the space of nearly a minute and half in the first quarter, Delaware scored three goals. Undeterred, junior attacker Brendan Glynn scored with 2:01 left in the quarter to give the Dragons some momentum heading into the second. Drexel took the opportunity and made the most of it. They outscored the Blue Hens 10-5 the rest of the way, dropping Delaware to a 3-7 overall record and an 0-3 record in the CAA.
During this season so far, Drexel has faced some formidable tests. Such include close losses to four top-20 teams in the No.1 University of Virginia, No. 6 Notre Dame, No.13 Bucknell University, and No.18 Villanova University. Three of those defeats came by only one goal, with the lone exception being a 14-9 loss to Bucknell March 13.
This Saturday, April 7, presents another stiff challenge for Drexel, as No. 15 Penn State University comes to Vidas Field. As has been the case for the majority of the season, Drexel will be without the services of junior attacker Nick Trizano, who has missed the majority of the season with a hamstring injury. The loss of Trizano on the field has been significant, to say the least. He scored 19 goals last season and dished out five assists as well, being a large factor behind Drexel's 11.29 goals-scored-per-game average last season. This year, however, the offense has taken a hit, as they are only averaging 8.80 goals scored per game.
"We're a little disappointed not to be scoring more goals. We weren't shooting really well," Voelker commented. "We counted on Trizano to be the quarterback of the offense, but him being hurt has changed things."
The Nittany Lions present a very tough game for the Dragons, something that Voelker is very aware of.
"They're a good team all over. The first thing they are talking about is their goalie. He makes big saves, starts transition offense opportunities [and so on]," Voelker said. "Their attackers are very good, as well. Seniors No. 10 Matthew Mackrides, No. 9 Jack Forester and sophomore No. 3 Shane Sturgis are all having good seasons. They have some athletes in the midfield. They had a big win against Notre Dame and really beat up on Villanova."
Unlike the last two games, the hope is that the Dragons start out well, especially due to the offensive prowess of their opponent.
"We went down 4-0 and 3-0 the last two games," Voelker said. "Last year we got a big lead against Penn State and held on for a one-point lead. We're going to have to play a complete game to get the win on Saturday."
After a season of ups and downs, the men's team hopes to pull it together and come out with big wins for the remainder of the season.