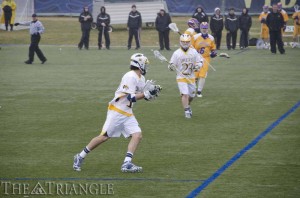 The men's lacrosse team split its two games last week, defeating Bryant University before falling to Bucknell University. With the split, the team moved its record to 4-2 and is currently ranked 13th in the nation.
The Dragons knocked off the Bryant Bulldogs with a score of 11-5 March 9 at Vidas Field. The victory moved their then-winning streak to four games.
Robert Church had a hat trick for Drexel, and Frank Fusco and Ben McIntosh each added a pair more to lead the offense. By the end of the first quarter, the Dragons had jumped out to a 4-0 lead.
Late in the game with the score 6-3, Drexel would ice it with five unanswered goals. The Dragons would carry an 11-3 tally into the final five minutes of the game before Bryant added two late goals.
Making his first career start in net, Cal Winkelman held his own for Drexel. The redshirt freshman stopped 15 shots on the day to earn his first collegiate win. Winkelman, who was starting in place of the ill Will Gabrielsen, impressed head coach Brian Voelker with his debut.
"He stepped up, played well and made the saves he needed to," Voelker said. "I thought he really stepped up and played well for us."
Voelker was impressed overall with the play on both ends against Bryant. He thought Winkelman was joined by his teammates, who also stepped up and played a solid game.
"It was a good win," he said. "We buckled down and played well. In general I thought everyone stepped up and played well on both ends."
That would be the end of the Dragons' four-game winning streak, which started immediately following their season-opening loss to Virginia. Drexel fell to Bucknell March 12 in an ugly 17-8 game, failing to recover from an early hole.
The Bison received hat tricks from Todd Heritage, Chase Bailey and Brock Ghelfi and scored 14 times on Winkelman before the freshman was pulled. Drexel went into the half in an 11-4 deficit and would not get back into the game.
Voelker observed an opposite type of performance from his team on Tuesday, in contrast to Saturday's victory. The early slump became too much to overcome.
"We played in spurts," he said. "When you do, it's going to come back to bite you. We couldn't get it back in our direction."
A bright spot in the game were the two goals by Robert Church, the 100th and 101st of his Drexel career. The senior became just the seventh men's lacrosse player in program history to eclipse the 100-point milestone.
"He's been a great player the last four years," Voelker said of Church. "We knew before the season he'd be a guy that we could count on, and he's been a great player who does a lot of things for us on the offensive end."
The Dragons will look to regroup following the loss and start up another winning streak. Their first crack at doing so will come Saturday, March 16, at home against Mount St. Mary's University at Vidas Field.
The Mountaineers will come to University City with a record of 4-4 but with a hot offense. They are coming off two straight victories in which they scored a total of 30 goals.
"They're very good on the offensive end," Voelker said. "We're going to have our hands full."
With the heavy offensive unit coming in, Saturday would not be a good time to be missing Gabrielsen. Voelker said, however, that it is doubtful the freshman will play this weekend, as he is still recovering from an illness.
One thing that does point in Drexel's favor is their undefeated record at Vidas Field, going 3-0 in the first three home dates. Mount St. Mary's, meanwhile, will bring in a 0-3 road record to the matchup.