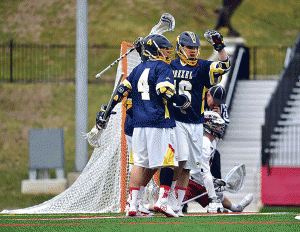 May 5 marked the beginning of the road to the Colonial Athletic Association Championships for Drexel University men's lacrosse team. The Dragons' first match was against Towson University, a strong team with a 13-2 record on the season.  
Drexel came into this match having won the previous two games against Towson, so the Dragons had momentum on their side.
The first quarter did not start off in Drexel's favor. In fact, Towson scored half their points just in the first quarter. Just 16 minutes into the first quarter Towson scored three unanswered goals.
Drexel retaliated later with around four minutes left when Matthew Varian picked up his 18th goal of the season, making the score 3-1 Towson. Drexel scored again off of the stick of Michael Kay at the 3:58 mark. His fifth goal of the season made the score a close 3-2. Towson responded with two more goals at the end of the first quarter to make the score 5-2.
The second quarter was much better for the Dragons, defensively, than the first. Drexel allowed just one goal, but what hurt the Dragons was the fact that they themselves could not score. Had their offensive line been more effective, they could have closed the gap to make a 6-2 Towson lead more manageable after the halftime break.
Both teams came out of the break with some fire. The third quarter was a scoring fest, with Drexel finding the back of the net first. Robert Frazee scored his 24th goal of the season diminishing the Towson lead to 6-3.
Towson of course came back a few moments later to extended their lead back to four goals to make the score 7-3. Drexel kept fighting, however, and at the 8:20 mark Drexel's Cole Shafer scored his 20th goal of the season to bring the score to 7-4. The Dragons then scored a minute later to cut Towson's lead to 2 points. Jacob O'Donnell scored the goal, his sixth of the season.
The Dragons looked to get more momentum with each score, but Towson's strong defense did not allow the Dragons to convert their momentum into goals. At the 6:27 mark, Towson scored their eighth goal of the game, bringing their lead back to three.
Drexel fought with heart and physicality in this match, but it just was not enough to overcome Towson. Drexel scored just once more off the stick of Jacob O'Donnell, in the fourth quarter, and Towson scored two more times. The end score was 10-6 Towson University.  
The Dragons, despite their loss, put up a valiant effort and gave an incredibly talented Towson squad a run for their money. The Dragons should be proud of the way they played, and fought, in their games to end their season. Drexel has a promising squad, and they will certainly look to make the most of this offseason.