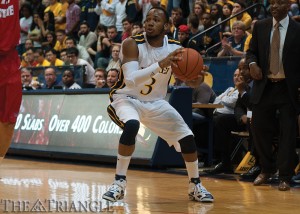 Bouncing back from a close loss can be a difficult task for any college basketball team.
Bouncing back from a close loss to a nationally ranked opponent whom you almost forced to overtime in your season opener has to be exponentially more difficult.
Yet, after a frustrating loss in Los Angeles, the Drexel men's basketball team picked itself up and put on its game face.
In the Nov. 8 season opener against the University of California, Los Angeles, the Dragons fell behind early before a second-half rally brought them within three points with 57 seconds left in the game. Damion Lee's three-point attempt to tie the game with three seconds on the clock fell dramatically short, however, and the Bruins won 72-67.
Four days later, Drexel pulled back to .500 with a comfortable — but not too comfortable — 78-70 win over Illinois State University in Normal, Ill.
"It felt good as a team," senior point guard Frantz Massenat said of the season-opening road trip. "Even though we lost to UCLA, it felt good to know that coming off a season like last year we came out and competed. And then also Illinois State, games like that last year we probably would've lost, and to see that we toughed it out and won on the road is good."
Friday's season opener, which actually tipped off as the clock struck midnight on the East Coast, was a sloppy first game.
The first half was all UCLA. The Bruins controlled the pace of the game, using quick transition offense and deadly three-point shooting to build an 11-point lead by halftime.
After the game, Massenat attributed the loss in part to the problems the team faced early in the game.
"We lost this game in the beginning of the game when they got out to their lead," Massenat said. "And then we lost in the last few minutes when we didn't get stops when we needed to."
He was right. After UCLA built its 11-point lead just eight minutes into the game, Drexel outscored the Bruins by 10 points over the next 30 minutes. The bookends were the Dragons' downfall.
Massenat played a big role in keeping the game tight. He scored 14 points in the first half and finished with a game-high 20 on 50 percent shooting from the field, playing an extremely efficient offensive game.
However, UCLA was able to limit his production in the second half, holding him to just six points on 3-7 shooting.
Massenat attributed the tail-off to a defensive shift from the Bruins.
"They played a zone instead of a man in the second half, so they keyed out on our guards," he said.
Or maybe just one guard: him.
Because after enduring a dismal first half in which he was limited to four points and went without a made field goal, junior guard Damion Lee scored 13 points in the second half. He finished the night with 17 points on a woeful 5-18 shooting, but his struggles would have been forgiven had he knocked down the last Drexel shot attempt of the night.
With eight seconds remaining in the game, the Dragons had possession of the ball down 70-67. Lee met a pass behind the arc and was, by all accounts, wide open. Maybe he was too wide open.
His shot missed everything.
"On the last shot, I wanted to get the ball to the rim but I didn't realize how far out I was until I saw the film," Lee said of the last play. "I could have got a better look."
It was a close game for the Dragons in Los Angeles, and it could have been a valuable way to start the season. A win against a ranked opponent looks good on any NCAA Tournament resume.
Four days later, though, Drexel atoned for its shortcomings in Los Angeles with a 78-70 win in Normal, Ill.
Led by 26 points from Chris Fouch, Drexel used a scoring burst early in the second half to put Illinois State in the rear-view mirror for good.
The first half was a war of attrition. No team led by more than six points, there were five lead changes, and the Dragons had to rely on five points from Fouch in 31 seconds to take a four-point lead into halftime.
Junior Dragon forward Kazembe Abif was the star of the first-half box score, scoring 10 quick points and grabbing nine rebounds in 18 minutes of play. Abif's play helped the Dragons keep their heads above water as Massenat and Lee combined to go just 3-12 from the field.
He finished the game with 13 points and 13 rebounds for the first double-double of his career.
"It's great when [Abif] plays well because he's an energy guy, even inside the locker room," Massenat said of the junior forward. "So when he plays well, our whole team is hot."
After the break, Drexel came out and scored seven quick points in the first minute and a half to build a nine-point lead. The Redbirds threatened to make a few runs, but they never took a lead in the second half, and from the 15-minute mark on they were never again closer than six points.
Fouch was the driving force behind the entire offensive game, shooting 9-14 from the field. It was a significant improvement from the first game of the season, in which he shot 3-15, and he said the difference was execution.
"I didn't change anything," Fouch said. "I just stayed confident in myself. I had a bad shooting night against UCLA, and so I wanted to go into the game being confident and knowing that I can make shots, and that's what I did when I got out there."
Fouch's 26 points were the most he has scored in a game since Dec. 11, 2010. When asked if he thinks he can keep that kind of scoring pace up, the sixth-year veteran answered with a smile.
"You've got to stay confident like that," Fouch said. "You've got to go into games thinking you can score the ball that way. Every night you're not going to have a great night like that, but if you go in with that mindset, you'll be able to get a lot done, keep the pressure on the defense, and open up a lot of things for teammates as well."
Sophomore guard Tavon Allen also chipped in with 12 points in 28 minutes, his game time increased because of Lee's off night.
Allen said the increased point production was a result of telling himself to settle down and get comfortable after the first game.
"I just tried to go out with a mindset to just play my game and have fun with it. [Lee] was in foul trouble anyway, so I had to do what I had to do out there."
The Dragons come home for a week of practice and recuperation before they head to Piscataway, N.J., for the opening rounds of the NIT Season Tip-Off tournament. They face Elon University Nov. 18 at 5 p.m., and the results of the tournament determine their fate from there.