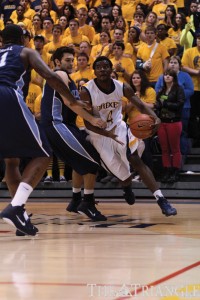 The Drexel men's basketball team will kick off its season Nov. 9 against Kent State University in Kent, Ohio. The Dragons will play their home opener Nov. 15 against Illinois State University, and just two days later, Drexel will face its 33rd Street rival, the University of Pennsylvania.
The Dragons will then travel to Anaheim, Calif., to compete in the DIRECTV Classic. They will open the tournament with their first big test of the season Thanksgiving Day against Saint Mary's College of California. The game will be aired on ESPN2. The Gaels finished last season sporting an impressive 27-6 record in the regular season. SMC won the West Coast Conference tournament, besting No. 25 Gonzaga University in the process. St. Mary's made it to the NCAA Tournament, only to lose to Purdue University in the first round.
Other notable names competing in the DIRECTV Classic are Xavier University; The University of California, Berkeley; Drake University; Rice University; Georgia Technical Institute; and the University of the Pacific.
This will be the second straight year the Dragons will have lengthy travel for an early-season tournament. Last year Drexel traveled to the Virgin Islands to play in the Paradise Jam. Head coach James "Bruiser" Flint would love to have more home games early on, but he knows these are the cards he's dealt.
"We have no choice," Flint said. "It is what it is, it's a nice tournament, and we'll be on TV a lot that weekend, so we'll get a lot of exposure — so you don't mind doing that."
The Dragons got off to a slow start last year, losing four of their first six games. Flint mentioned that injuries played a big part at the beginning of last year.
"We're healthier than we were last season," Flint said. "Last year we knew going into the first couple of games — we lost Tavon [Allen] in the scrimmage before the first game, right before we were ready to play Rider [University] and then go down to the Virgin Islands. We knew Chris [Fouch] wasn't going to be playing. So hopefully we can be healthy going into the games, and we'll go from there."
After the DIRECTV Classic, the Dragons will be back in action at home Dec. 1 against Rider. This will be a rematch of last year's 80-62 Dragons win. Drexel will then be on the road for a three-game stretch starting Dec. 4 in Nashville, Tenn., against Tennessee State University. The Dragons will then travel to Princeton N.J. for a rematch of last year's 64-60 win over Princeton University. Princeton won 20 games last year and is widely favored to win the Ivy League.
"It's going to be a good game," Flint said. "It's always tough to play them just because of the style of play."
The Dragons will finish their road trip Dec. 16 with a rematch against Fairfield University in Fairfield, Conn. Drexel downed Fairfield last season by comfortable 77-69 margin.
The Dragons will return to the friendly confines of the Daskalakis Athletic Center for their final two out-of-conference games. Drexel will host Davidson College Dec. 22, which will be broadcast on the NBC Sports Network. Davidson is most famous for its 2008 Cinderella run to the Elite Eight in the NCAA Tournament. Last year, Davidson made it to the NCAA Tournament for the first time since 2008 but lost in the first round to the University of Louisville.
"They have a good program," Flint said. "Coach McKillop is a great coach, so it's a good game for us. Plus we get it at home. We have a lot of problems trying to get home games, and they said, 'Hey, we'll play you guys at home.' So that was one of the big things about them and Illinois State."
The Dragons will finish their out-of-conference schedule with a home game against city rival Saint Joseph's University on New Year's Eve. Drexel lost to the Hawks 62-49 last year.
Drexel will start its Colonial Athletic Association schedule Jan. 2 at Georgia State University. With the departure of Virginia Commonwealth University from the CAA, Drexel will play every team twice except for the University of North Carolina Wilmington.
The Dragons will then have a two-game homestand against Towson University Jan. 5 and Northeastern University Jan. 8. Drexel will then play three games on the road against James Madison University Jan. 12, The College of William & Mary Jan. 19, and Hofstra University Jan. 23.
The Dragons will then be home for two games. They will face Georgia State for the second time Jan. 26 and the archrival University of Delaware Jan. 28. The game will be broadcast nationally on the NBC Sports Network.
The Dragons will then travel for another two games against George Mason University Jan. 31 and Northeastern Feb. 2.
Drexel will then host a four-game stretch, in which the team can get comfortable in the confines of the DAC. Old Dominion University will be the first to visit the Dragons Feb. 7, which will be shown on the NBC Sports Network. Then the Dragons will play JMU, George Mason and Hofstra Feb. 10, 14 and 18, respectively.
The Dragons will then have their final stretch of away games against Delaware, Towson and ODU Feb. 21, 23 and 28 before coming home for Senior Day against UNCW.
Even without VCU on the schedule, Flint isn't banking on it to be an easy season, with Delaware and George Mason returning key players.
"You take VCU out of it, but the teams that are going to be good are still in the league," Flint said. "It's not like it was going to be us and VCU in a two-team race, that's a lot of other teams that are returning good players that had pretty good seasons last year."
This season's schedule is tougher than last year's. Davidson and St. Mary's made it to the NCAA Tournament, while eight teams on the schedule won 20 or more games last season. The Dragons will also play 17 games on the road and only 13 at home. Even with the increased level of competition, Flint still isn't happy with the difficulty of finding home games.
"[Teams] just don't like to play here," Flint said. "People hear it's a tough place to play, and we've beaten some people here, so we can't get people to come and play here. It's kind of tough because you don't want to play all of your games on the road, and that's why you have some scheduling problems. People always talk about [our] schedule, but it takes two to tango."
Flint does takes some positives out of that dynamic, though. It says something about his team.
"It's a good thing because it lets you know that you have a good team," Flint said.