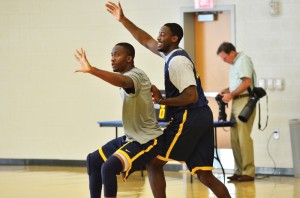 The Drexel men's basketball team received a lesson in Chinese culture and table manners Aug. 18. They learned not to tip their waiter, to tap the table when they want to compliment a drink and to always use chopsticks at an angle, so as not to offend.
Han Chiang, owner of the Han Dynasty restaurants in Philadelphia, paid a visit to the Daskalakis Athletic Center this week to prepare the team for its upcoming 10-day trip to China.
The team departs Aug. 23 and will land in Beijing, where the Dragons will spend five days before heading to Shanghai for five more. During their time in the country, the team will visit the Great Wall and Tiananmen Square.
Oh, and they'll play some basketball, too.
As of Aug. 19, head coach James "Bruiser" Flint said the Dragons were planning to play one professional team and three college teams during their time in China. There will be no practice time during the trip; instead, the Dragons have been practicing during the past two weeks in preparation.
The last time the Dragons went on an international basketball trip was the summer before the 2010-11 season, when they traveled to Turkey. It was now-graduated point guard Frantz Massenat's freshman year, the first year that the NCAA allowed incoming freshmen to participate in preseason events, like trips.
Flint said that the extra practice and playing time Massenat — and then-freshman Dartaye Ruffin — received during that summer in Turkey was extremely helpful, both for the players in learning and adjusting to college speed as well as the coaches and their evaluation processes.
"We knew Frantz and Dartaye were going to be fine," Flint said. "We only had eight players, so those guys really had to play, but you saw during the games that these guys were going to be okay.
"You know, we're playing men over there. And we'll do the same thing in China. And we saw Frantz, he got his butt kicked a little bit because we played some pro teams that had good American guards, but you saw that he was okay."
A month into the season that year, the Dragons knocked off No. 20-ranked University of Louisville. Massenat and Ruffin combined for six points and 12 rebounds.
Flint said that on this trip he expects to try and get a good handle on a number of his players — not just his four incoming freshmen but his young returning players as well.
"We've got a lot of young guys who played last year, so we'll be seeing did they take that step up? Because we're going to need them to if we're going to be any good," Flint said.
"And we'll see how freshmen react in game-type situations. All these drills, playing in these types of [practice] situations, there isn't pressure on them. When we went to Turkey, we played in front of 5,000 to 6,000 people. I think we might be doing the same thing in China, so now you'll get to see how they act with some fans, game-type of situation, stuff like that."
Rising sophomore forward Rodney Williams said he's excited for the trip for a number of reasons, especially because his team members' international travel history is pretty limited.
"None of these guys have ever been [to China], so it's a chance for them to experience something new," he said. "And also, we get to go and play some games with different types of people and a different type of playing style, so it's going to be interesting."
Williams also said he believes that the trip is going to benefit the Dragons in the long term this season.
"It's definitely going to benefit us," he said. "We've got hard games coming up with [University of Miami] and [University of Colorado], stuff like that, and a lot of our young guys are going to have to step up. So having them be able to play … it's going to help them a lot."
Rising sophomore guard Major Canady echoed Williams' sentiments and added one of his own, one that is likely shared by all of his teammates.
"I'm just excited to get some basketball in during the summer," Canady said.
Aren't we all.