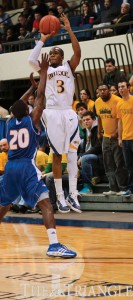 Last season was supposed to be the "Year of the Dragon" for the men's basketball team. Drexel was supposed to win the Colonial Athletic Association and make its first NCAA Tournament appearance since 1996.
The team won 29 games, led by CAA Coach of the Year James "Bruiser" Flint. Despite that, they failed to make the tournament after falling in the conference championship game to Virginia Commonwealth University.
A year later, with VCU out of the conference and Drexel's CAA Preseason Player of the Year Frantz Massenat, the team is ready to make this a year of revenge, or "Revenge of the Dragon."
"Last season, our motto was the 'Year of the Dragon,'" sophomore guard Damion Lee said. "Since we fell short in the championship game and played in the[National Invitation Tournament], … it wasn't our goal. So this year, our mantra is 'Revenge of the Dragon.'"
Their journey toward revenge begins Nov. 9 when they travel to Kent, Ohio, and face off against the Kent State University Golden Flashes at 7 p.m. The game will be the season opener for both teams.
Drexel will bring in a healthy roster ready to embark on a season full of expectations. Every player is returning with the exception of graduated forward Samme Givens. With that, all eyes will be on how Drexel's frontcourt responds and who steps up to fill the void. Flint's expected starters are senior Daryl McCoy and junior Dartaye Ruffin.
McCoy, on the one hand, was pretty close to dominant on the defensive end last season and was a major reason why Drexel had the fifth-best scoring defense in the nation in 2011-12. Playing about five fewer minutes per game than Givens did last season, it is conceivable he can make up for that one extra rebound Givens averaged ahead of him, when the junior McCoy averaged 6.7.
On the offensive end, Ruffin brings a lot to the table, as his game has continued to improve over his three years at Drexel. As a freshman off the bench two seasons ago, Ruffin averaged over eight points per game. Last season he shot better than 50 percent from the floor and showed flashes of brilliance on offense, including his 17-point effort against the University of Massachusetts Amherst in the NIT quarterfinals, the final postseason game the Dragons would play.
McCoy started last year, so it is Ruffin who really will be filling Givens' shoes. He'll be hoping to bring that consistency to the table for the conference's projected best team.
"That's the goal," Ruffin said. "I know I've been working hard, and hopefully that hard work pays off for me."
If the frontcourt is set and ready to go, paired with the backcourt of Massenat and Lee, last year's Rookie of the Year, as well as sixth man Chris Fouch, Drexel will be tough to beat.
To go back to the season-opening matchup, Kent State is in a situation nearly opposite of Drexel. Head coach Rob Senderoff has lost nearly his entire starting lineup from last year, bringing only guard Randal Holt, who averaged 12.7 points per game, back for the 2012-13 season. Senderoff will have to go back to work without five of his top seven scorers from last year, when they went 21-12.
In a matchup that the Dragons will enter as the heavy favorites, their challenge will be looking to avoid a slow start like last year, when they stumbled to a 2-4 record out of the gate. This was partially attributed to some of the players adjusting to being new to the team and Drexel taking a three-game trip to the Virgin Islands.
This year, everything seems to be in place. Everyone is healthy, everyone is ready, and everyone's roles are set. So with that, Drexel seems ready to go. Their attempt at revenge starts Friday night at Kent State.
"I say we're ready to start the season," McCoy said.