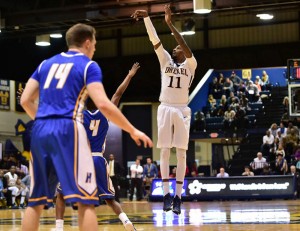 The Drexel University men's basketball this season, to a large degree, has centered around Bruiser Flint, the battered, beleaguered head coach mucking through the least-successful season of his career.
He has represented the program extremely well for the past decade and a half, but it seems the magic has expired. Now, job security rumors abound.
With the Colonial Athletic Association tournament on the horizon, though, there's just one thing to talk about, and it's basketball.
Pure and simple, can Drexel, owners of one of the worst records in the country, play basketball well enough to advance past their first opponent of the tournament?
The Dragons haven't done so since 2012, and this year, while theoretically possible, it doesn't look substantially more likely.
Flint's team, the No. 9 seed, faces Elon University, the No. 8 seed, at 6 p.m. March 4. The two teams faced off twice this season, with Elon winning both high-scoring affairs behind a barrage of three-pointers.
Drexel made the same mistakes in both games, allowing Elon's deadly shooters to get looks from deep and heat up. When the Phoenix get going, they're nearly impossible to stop.
Recently, Drexel has played a similar game, deadly from deep and hard to stop. Tavon Allen is averaging 19.3 points per game on 46 percent shooting in his last four outings. He's hit 13 three pointers in that four-game stretch, converting at a 40 percent clip from deep.
The problem with relying on Tavon Allen is that, over his career as a Dragon, he's not exactly been the picture of consistency. It would be nice to imagine that this impressive streak will continue as he tries desperately to stretch his college playing career as far as it will go, but this four-game stretch of double-digit scoring ties his longest streak in 2016.
Tavon Allen will likely break double digits against Elon, mainly out of necessity. The question is whether he'll be able to do it efficiently enough to keep the Dragons afloat.
Another question facing Drexel during its tournament run, however long that may be, is which version of forward Rodney Williams shows up.
When he's at his best, Williams is one of the most athletically gifted big men in the conference, with first-team potential.
However, like Tavon Allen, Williams has problems with consistent production. He averages 10.2 points per game and 5.2 rebounds per game, but he's scored three points or fewer five times this season. Typically, when he struggles with early fouls, he's thrown off his game and never finds a rhythm.
The good news? Williams averaged 14.5 points and four rebounds per game in the Dragons' two meetings with Elon this season, including an eye-catching 19-point, seven-rebound performance in their first matchup.
Players like Kazembe Abif and Terrell Allen will be their normal, consistent, productive selves. But the variables like Tavon Allen and Williams are where Drexel will either win or lose this game, and the possible games that will follow if the Dragons manage to win in the first round.
This team is limited in its offensive capability. Flint has been quick to acknowledge that this season. But on those rare occasions when each player clicks, the Dragons have looked like a competent team. So, yes, one win against Elon is feasible.
But more than one win might be a pipe dream. Even winning one might be impossible.
That, of course, is why they play the games.