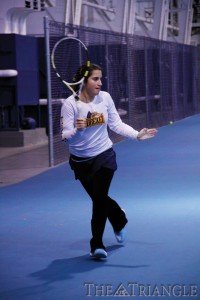 The Drexel University men's and women's tennis teams took to the courts Feb. 19 in Bethlehem, Pa. to take on the Lehigh University Mountain Hawks. The men started off the day on a sour note with a tough 7-0 loss.
The Dragons were swept in doubles competition, struggling against the three potent Lehigh duos. Drexel's No. 1 doubles combination of senior Bryan Nguyen and junior Jeganathan Srinivasan fought hard but could not outlast their opponent, falling by a score of 8-3. The No. 3 doubles team of sophomore Skyler Davis and freshman Dan Koehler lost in a similar fashion, competing well from the start but eventually losing 8-3.
Poor positioning and lack of communication were the primary downfalls for the Dragons, and it cost them the doubles team point. Assistant coach Mehdi Rhazali noted these flaws but also conceded that matches like these are part of the learning process.
"I want these guys to be challenged," Rhazali said. "We work hard and fight hard, so losing to tough teams is not a negative thing. We take the positives out of it and adjust what we need to adjust. It is the best and fastest way to improve."
Drexel did not fare any better in singles play, losing in straight sets across the board. Sophomore Paul Stauskas put together one of the team's better performances, keeping the match close before losing 6-4, 6-2. Stauskas, a defensive-minded player, was able to hang in the match for a while until his opponent's aggressive style became too much to overcome.
"If Paul played a little aggressive and put pressure on his opponent, it would've been a different story," Rhazali commented. "That's what we are working on right now."
Davis also showed some promise for Drexel in his singles match. His great serve allowed him to jump out to an early 4-1 lead in the first set before he lost his concentration and the momentum shifted in his opponent's direction. Davis went on to drop the match 6-4, 6-1.
After the men finished their match, it was the women's turn to face the Mountain Hawks. Coming off a close, hard-fought loss a week earlier against George Washington University, the ladies played with a fighting spirit, thrashing Lehigh 6-1.
In their match against GWU, the Dragons started strong but repeatedly fell victim to their own inability to close out matches. Evidently, a week of practicing, holding a lead and playing smart tennis pays off.
Drexel controlled all three doubles matches, sweeping their opponents and taking an early lead in the team competition. The duo of senior Sonja Stosic and sophomore Zeynep Mafa headlined the doubles events, defeating their opponents 8-1. They jumped to an early lead and refused to settle, tightening their grip on the match as it progressed. The other two Drexel doubles teams also played well in solid 8-4 wins against their opposition.
The Dragons continued their fierce play in singles action, as they won five of the six matches. Zeynep Mafa filled in for Stosic with a superb performance at No. 1. The first set of this match was an exhausting one filled with lengthy points and games, but Mafa was eventually able to pull away and secure a 6-4, 6-1 victory.
"She brought the match to an end with great discipline without relaxing for a second," assistant head coach Filip Kricka explained. "Stepping up to substitute No. 1 is not an easy task, but she acknowledged the challenge and responsibility and upped her game."
After trailing 5-2 in the first set, No. 5 freshman Nicole Pivonka caught fire, winning eight consecutive games on her way to recording a 7-5, 6-2 win. Meanwhile, sophomore Marcela Rosales took an early lead and never looked back, winning the No. 2 match in straight sets 6-3, 6-1.
In one of the day's most thrilling contests, sophomore Alex Bell continued to show her substantial improvement from a year ago, taking the three-set match 6-2, 2-6, 6-3. Very similar to her previous singles match against GWU, Bell split the first two sets before regaining focus and walking away with a victory in the final set.
"Bell, together with Rosales, has proven herself to be the most reliable player of the season, winning the most matches," Kricka said. "She showed her mental toughness and her confidence in her game."
The women return to action Feb. 25 against a challenging opponent in the Delaware State University Hornets. Leading up to this matchup, they will focus on their doubles game, as they aim to obtain the all-important doubles point. The team is looking forward to this match with optimism that they will continue to play confidently and notch another victory.