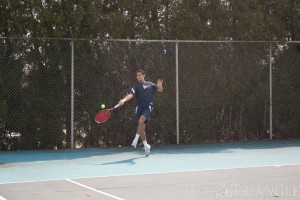 Then-senior Mehdi Rhazali positions himself to return an oppenents volley with a forehand during a home match last season at the Vidas Athletic Complex. Rhazili was one of two seniors on last year's roster, and this year's consists of just one in Bryan Nguyen.
The fall season is quickly approaching for the men of Drexel Tennis to get back out on the courts for competition. Their first invitational will be held in Philadelphia at the St. Joseph's Tennis Complex next weekend, taking place Sept. 23-25.
At the 2010 SJU Invitational, the Dragons put on an impressive showing with three players proceeding to the semifinals in singles play, along with Nikoloz Kurdadze and Manu Bajpai advancing in doubles play. The pair exceeded in their four matches against teams from Delaware, Villanova, Temple, and UMBC. However, their final match was a tight loss of 8-6 against Penn's primary duo.
Recently, Kurdadze was named to Philadelphia Inquirer's Academic All-Area Men's Tennis Team. This is the senior's second consecutive year being honored among other athletes obtaining a cumulative grade-point average of 3.2 or higher.
In addition to his strong performances in doubles play, Kurdadze finished last year's season with a 14-6 singles record, and was named to the Second Team All-CAA Singles. The Tbilisi native will be entering his fourth and final year with the Dragons, and has the potential to exceed past his already striking statistics. Sonja Stosic and Zeynep Mafa of the women's team were also honored at the CAA Tennis Awards Banquet this year due to their strong performances in doubles play.
The Dragons began their 2010 fall season with a powerful home win over St. Francis 7-0. The men swept through doubles and singles play with impressive victories that gave them confidence entering the new season. However, the competition grew stronger as the team fell short at the Old Dominion Invitational. Nevertheless, their performances were not a complete disappointment. According to drexeldragons.com, Kurdadze's streak in the tournament highlighted a weekend in which four other players reached singles semifinals, and Kurdadze and Manu Bajpai won the A1 doubles championship.
After a short few days of rest, the Dragons were back on the courts in New Haven, Conn., to compete at the ITA Championships at Yale. The dynamic duo Bajpai and Kurdadze soared through their beginning singles matches before falling short in their main draws.
Yet the men finished their fall season on a high note, defeating Rider 7-0 in dual match play, and soared in singles play with all matches ending in straight sets. The Dragons advanced to a 2-0 record in dual matches for the season, stated by drexeldragons.com.
With a bumpy fall season behind them, the Dragons were ready to get back on the courts for a fresh jump into the spring competition. The men started off uneasy with losses their first three weekends against Penn, Temple and Navy. Yet they proved to fight back after winning their following four matches against Coppin State, Hofstra, Morgan State and SJU. The win over Hofstra was a powerful victory as their first CAA match of the season.
Unfortunately, the men weren't able to continue their success against the other competitors in the conference. The Dragons faced off against George Mason and Delaware, yet fell at both to close matches of 3-4.
The 2011 fall season is heating up and Drexel Tennis is ready to get back on the courts. Head coach Tricia Udicious will coach the men to prove their talent at the exciting invitational with SJU next weekend.