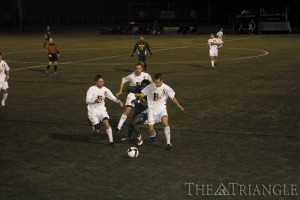 Sophomore defender Tal Bublil, junior midfielder Nathan Page and freshman midfielder Matheus Goncalves play the body against a George Mason attacker at Vidas Field.
Last season, the men's soccer team rushed out of the gates, winning their first six games, three of which were shutouts. They then went on to lose 10 of their last 14 games, ending the season with an overall record of 7-10-1. The Dragons finished the season with five straight losses — all against teams within the Colonial Athletic Association. Having another strong start and maintaining it will be the two biggest goals for the team this year.
The Dragons have 19 players returning, 12 of which started at least one game in 2010. With a majority of the starters returning, head coach Doug Hess thinks they are hungry to finish strong this year.
"They know how close they were," Hess said, speaking of the returning players. "It's kind of a bitter sweet feeling for them."
After last year's early winning streak, they lost four games in a row — all by one goal. The Dragons were 3-3 within in the conference with five games to play.
"We were right in the thick of things [at that point]," Hess said.
The Dragons also lost three of their more consistent players due to injury, and they couldn't quite overcome that factor. However, Hess knows that this is no excuse.
He also knows that injuries are part of the college sports package, and it is his job to get the bench players mentally prepared to start.
This will be Hess's second season with the team, and he feels more comfortable coaching the Dragons this season than last.
"That goes without saying," Hess said when asked if he feels more familiar with the team than he did at the start of last year.
He also feels that they are more comfortable with him and understand what he expects of them.
But Hess still thinks this season will be a learning experience, especially with conference play. Getting to know the opponents the Dragons will see most frequently is the biggest part of the learning curve. Those were key games last year, ones that can make or break a season.
However, this season will not be much easier schedule-wise. The Dragons will start the season off with three straight away games at Villanova, Creighton and Rutgers. Creighton, ranked among the nation's top-10 programs, will be the biggest challenge to start the season.
"It will be a good test [for the team]," Hess said. "We were comfortable in the confines of Vidas Complex, [but] winning away from home is the mark of a good team."
Speaking of home games, the Dragons will have to focus on more than just winning once they return to Vidas.
"A majority of the home games this year are after classes start," Hess said.
He expects fans to come out to more games, noting their aggressive playing style.
"We had the most shots taken in the conference, and the most times offside, so we are an attacking team," he said.
This is a team that will not go unnoticed on the score sheet. The Dragons were 5-3 at home last year, so they are definitely a team worth watching at their home games at Vidas Field.