The men's lacrosse team fought a grueling battle against the University of Massachusetts April 16, but fell short in the final minutes.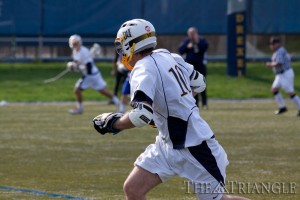 In a triple overtime duel, Drexel (6-6, 2-3 Colonial Athletic Association) lost to the Minutemen (8-3, 3-1 CAA) 10-11 at Garber Field.
Just over four minutes into the first quarter, freshman Ben McIntosh put Drexel on the board with an assist from Scott Perri. Although Drexel took the lead first, UMass quickly followed when Kyle Smith put one past Drexel goalie Mark Manos two minutes later.
The Dragons and Minutemen each put another goal on the board during the first quarter. It wasn't until the final 44 seconds of play that UMass' Anthony Biscardi took the lead for his team at 3-2.
"It was pretty nerve racking in the first half because we were playing for a lot," Manos said. "We have to get a win to stay in contention to make the Colonial Athletic Association tournament, so I think a lot of it had to do with nerves and just making the right decisions on the field with the ball."
During the second quarter, both teams managed to get a pair of goals. Drexel's Dan Layfield scored the first goal of the quarter and Kyle Bergman scored the last. In between the two, UMass' Colin Fleming scored back-to-back goals.
Going into the second half, the Minutemen led 5-4. Although the score was close, Drexel showed signs of struggle. The Dragons committed 11 turnovers and failed on five of 11 clearing attempts. Drexel's saving grace? Manos. The junior made 10 saves throughout the half.
"It is nice to know that I was able to make a good amount of saves during the game to help keep my team close," Manos stated. "But all in all it really doesn't cross my mind — whether I have two saves or 20 saves it really doesn't matter to me as long as I am able to do my part to help get the team a win."
The Dragons came out firing hard in the third quarter with five straight goals. Bergman, who had a pair in the third, got the momentum rolling just over a minute in. Teammate and All-American candidate Perri put the second goal in with an assist from Trizano. Bergman, Trizano and Craig Owen proceeded to score consecutive goals, pushing Drexel ahead to 9-5 — and holding UMass scoreless for more than 16 minutes.
It wasn't until UMass' Ryan Hantverk found the net with just 1:39 remaining in the quarter. With little time left in the third, Trizano managed to score with 51 seconds left, followed by UMass' Will Manny, who scored with just one second left.
The Minutemen dominated the fourth quarter. With goals from Manny, Biscardi and Smith, UMass tied the game at 10-10, sending it to overtime.
"We knew from the beginning that we were going to be in for a fight," Manos said. "When they started making a comeback, we knew we would have to try and turn the tide back in our favor, which is tough in such a hostile environment like UMass."
Drexel fought hard, and didn't let anything past defense in the first and second overtime. With shots from Biscardi and Hantverk, Manos and his defense were on their A game, and didn't let anything near the net. Perri had quality shot attempts in both the first and second OT, but was rejected by UMass goalie Tim McCormack.
It wasn't until the last 2:37 in the third OT that Smith managed to get one past Manos, securing the win for the Minutemen.
Though the Dragons fell short in a heart-wrenching loss, the team has a lot to be proud of. Manos finished with 18 saves, one short of matching his career-high of 19. His teammates Perri and Trizano each had a hat trick, while Bergman finished with four goals.
"A game like that shows that our team has a lot of heart and drive to win — we have a strong core of leaders who know what it takes and are willing to do whatever it takes to get this team to where we want it to go," Manos said. "We knew that we were in for a very tough game and making things go into triple overtime shows that we weren't going to give up on ourselves.  We were willing and are still willing to do whatever it takes to get a win and make it to the CAA tournament."
The Dragons are set to take on Towson April 23 at 3 p.m. for the last home game of the season. Needless to say, this game holds extra importance to the graduating seniors.
"We have been preparing hard this week and we are ready to get our seniors a win on their senior day," Manos stated. "This game means a lot to them as well as the entire team — I know everyone is ready to get out there on Saturday and help get this team a huge win."
This game could be the difference between reaching the playoffs and just falling short. With high stakes, the men are ready to play — and ready to win.