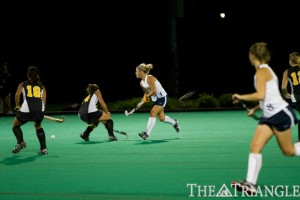 The initial incentive that comes with competing is rather obvious: Play at a very high level, and hopefully you will be rewarded for your efforts.  The Drexel University field hockey team certainly justified its strong efforts with success on the field at the 2012 Women's National Championships.
Three individuals currently involved with the field hockey team were selected to take part in the national championships, which began June 1 and ended June 8 on the campus of the University of Maryland in College Park, Md. Junior midfielder Amanda Fleischut, sophomore midfielder Lindsay McArdle and sophomore Elise DiDonato are with the Pennsylvania High Performance team and have advanced to the June 8 final of the tournament against the New Jersey team.
After a 2-2 tie against New England June 1, Pennsylvania strung together three consecutive wins against the Midwest, North and South teams, winning those games by a combined 11-6 margin.
Speaking after Pennsylvania's big 3-2 overtime win against the North team, McArdle and DiDonato spoke at length about the excitement of being with the team. "It's a satisfying feeling being able to compete and represent Drexel in an event like this," McArdle said.
DiDonato echoed McArdle's sentiments, saying that "it is such a great opportunity to be here with other Drexel teammates" and that "playing against some of the best players in the United States is a satisfying feeling." However, neither felt that it was surprising to see so many people associated with Drexel, which included former Drexel players and current Pennsylvania teammates Susan Ciufo and Kimberly Tunell.
"I don't know if I would use the word 'surprised,'" McArdle said. "We are a very talented team, and having this many teammates represent Drexel shows what level of play we are able to attain."
DiDonato added onto those previous remarks, saying, "Drexel is a great field hockey program, and it is a great feeling to be competing with so many current and past teammates, especially under [head] coach [Denise] Zelenak and [assistant head coach] Nicky Hitchens."
Despite the Pennsylvania team's decisive three-game winning streak, Drexel's participants are quick to say that proceedings have been far from easy.
"It is a big step in terms of intensity," McArdle said. "These players represent the most elite colleges and above. We are playing with and against players who have been training for the Olympics. At first, things were a little intimidating, but once the jitters get out it's like any other game."
Of course, given the high level of Pennsylvania's opponents in the team's previous games and the talent level of New Jersey, McArdle's concerns are acceptable but not inevitable.