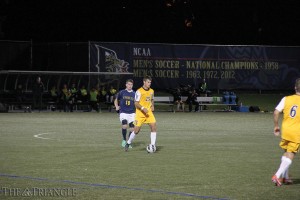 Oh, how the tables have turned.
After being shut out in two consecutive matches against Temple University and Princeton University, the Drexel men's soccer team has now shut out its opponents in each of the last two matches. These strong defensive efforts resulted in a scoreless draw vs. Northeastern University and a 2-0 win over the University of North Carolina Wilmington.
When the Dragons hosted the Huskies at Vidas Field Oct. 12, the home team faced a difficult task. Drexel had not earned a point against Northeastern since 2008, losing four consecutive matches against them in the process.
But the Dragons faced the challenge head-on, even though they had lost three consecutive matches. Because Drexel came into the match with a 5-5-1 overall record, the team's chances of earning a second consecutive NCAA Tournament at-large bid were all but gone.
For that reason, it is now necessary for the Dragons to win the Colonial Athletic Association Tournament to earn an automatic bid. A positive result against the conference-favorite Huskies would go a long way toward making that dream a reality.
After 110 minutes of play, through both halves and two overtimes, neither team scored and the match ended in a draw. Each goalkeeper — sophomore Dylan Faber for Northeastern and freshman Tyler Afflerbach for Drexel — made five saves to post clean sheets.
Following the match, Drexel senior defender Tal Bublil explained that the key to keeping the Huskies off the board was staying focused, being aggressive and competing for every ball, something the team had been lacking during its recent rough patch.
The Dragons surely were not satisfied with just one point in the standings, but as head coach Doug Hess explained after the match, it was nice to finally break the losing streak.
"You want to win against good competition, so we're not [going to] rest on getting a point off of Northeastern," he said. "But in the same breath, sometimes you need a point, particularly when you've given away nine in the past three [matches]."
Bublil, the Drexel team captain, had similar comments, considering it was the first time in his and Hess' careers that their squad did not lose to the Huskies.
"We are actually never satisfied with a tie, with getting one point," the team captain said. "But in Doug's time here, that's the first point we actually got against them, so I think overall it's a good result."
Coming off that good result, the Dragons began a four-match road trip Oct. 16 against UNCW and came out on top by a score of 2-0. Junior midfielders John Grosh and Guido Pena each scored to defeat the Seahawks, along with eight big saves from Afflerbach.
In the 34th minute, Grosh gobbled up a ball at the top of the box and let loose a shot that eluded UNCW sophomore goalkeeper Sam Williams to give Drexel a 1-0 lead. Then, just 4:35 into the second half, Pena headed in a cross from senior midfielder Ken Tribbett to give the Dragons a 2-0 advantage, a lead they would hold until the final buzzer sounded.
Following Pena's goal, Afflerbach was challenged with four shots on goal from the Seahawks and was up to the task on each one. The freshman recorded his fifth shutout of the season in 10 starts, improving his record to 6-3-1. Of the six Dragons wins with Afflerbach in net, four have been of the shutout variety.
With four points in the last two matches, Drexel has jumped to second place in the CAA standings with a 2-0-1 record in conference play. It now seems like the Dragons have kicked into gear in one way or another, but Hess refused to acknowledge momentum playing a role in the ultimate direction of his team.
"Whether we're back in form or not in form, we're a team that can win and go off on another five-game win streak at any point," Hess said. "We're good enough to win plenty in a row. … So it's just about getting through the difficult moments and being strong enough mentally."
Some of those difficult moments included having to tell Bublil and Tribbett to sit out, something that was a foreign idea to Hess. But with a strained shoulder, Bublil rested during Drexel's losses to Temple and Princeton, and with a few general injuries of his own, Tribbett also did not play against the Tigers.
Back and ready to take the CAA by storm, Hess stressed that it is important for the Dragons to realize that they cannot change any result, asking his team to move forward and just focus on the matches that are in front of them.
Upcoming matches include trips to the University of Delaware Oct. 19 and the University of Maryland Oct. 22. The Blue Hens had a seven-match win streak snapped by Northeastern Oct. 16, but they still hold a 10-2 overall record and sit just outside the top 25 in the National Soccer Coaches Association of America coaches poll. It is also important to mention that Delaware holds a 6-0 record at home this season.
Meanwhile, taking three points from their visit to College Park, Md., will be a daunting task for Drexel, as the Terrapins are ranked No. 4 in the nation with a 5-2-5 overall record. Maryland will be the highest-ranked road opponent for the Dragons since they visited No. 6 Creighton University in 2011 and lost by a score of 3-0 to the Bluejays.
With those matchups posing as tall tasks for the Dragons, we will have to wait and see if Drexel can keep those tables turned against some hungry competition.